News

Zutto Mae Kara Suki Deshita Anime Film Unveils Trailer, Key Visual, Staff

posted on by Karen Ressler
Film based on
HoneyWorks
' music slated for April 23 theatrical release
---
The official website for Zutto Mae Kara Suki Deshita: Kokuhaku Jikkō Iinkai (I've Always Liked You: Confession Executive Committee), the anime film adaptation of HoneyWorks' Vocaloid song project Kokuhaku Jikkō Iinkai ~Renai Series~, unveiled a promotional video, key visual, and updated staff and cast lists for the film on Friday. The website also announced that the film will open in theaters in Japan on April 23, 2016.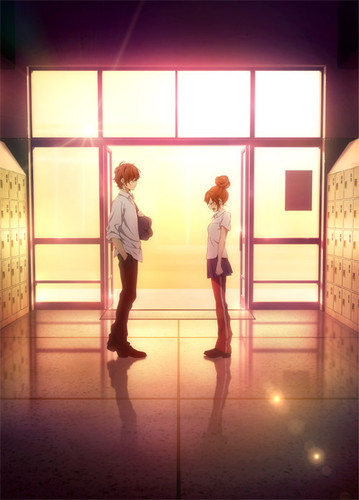 Tetsuya Yanagisawa (High School DxD, Blade Dance of the Elementalers) is directing the film at Qualia Animation off scripts by Yoshimi Narita (HappinessCharge PreCure!, Beet the Vandel Buster). Maki Fujii (Blade Dance of the Elementalers, Pupa) is serving as character designer and chief animation director. Other staff members include:
The cast of the anime includes:
Hiroshi Kamiya
as Yū Setoguchi, film club president


Haruka Tomatsu as Natsuki Enomoto, art club member


Yuuki Kaji as Sōta Mochizuki, film club vice-president


Kana Asumi as Akari Hayasaka, art club president


Kenichi Suzumura as Haruki Serizawa, film club member


Aki Toyosaki as Miō Aida, art club vice-president


Tsubasa Yonaga as Koyuki Ayase, a member of the gardening club


Other cast members include: Momo Asakura as Hina Setoguchi, Natsuki Hanae as Kotaro Enomoto, Hikaru Midorikawa as Saku Akechi, and Sora Amamiya as Sena Narumi.
The Kokuhaku Jikkō Iinkai ~Renai Series~ project centers around such popular songs as "Kokuhaku Yokō Renshū" (Confession Rehearsal), "Hatsukoi no Ehon" (The Picture Book of the First Love), and "Yakimochi no Kotae" (The Answer to Jealousy). HoneyWorks has released three albums, Zutto Mae Kara Suki Deshita. (I've Always Liked You.) in January 2014, Boku Ja Dame Desu ka? in November 2014, and Naru Sono Shunkan o (That Moment I Fell in Love) on July 15.
HoneyWorks consists of composer Gom (center in image below), composer shito (center right), and illustrator Yamako (center left). Their support members include guitarist Oji (Kaizoku-Ō, far right), illustrator Mogeratta, illustrator Rokoru (far left), video production member ziro, keyboardist cake, and drummer AtsuyuK!  Their songs have spawned videos that have garnered over 100 million views on Niconico, YouTube, and other video-sharing sites, and the five novels based on those songs have sold over 850,000 copies.

The group contributed theme songs in the Brothers Conflict and Tokyo Ravens television anime. CHICO with Honeyworks, the group's collaboration with vocalist Chico, contributed theme songs for Blue Spring Ride, Magic Kaito 1412, and Gintama.
Thanks to Dennis R for the embedded video.
---