News

Gundam Front Tokyo to Screen New Gundam-san Short

posted on by Rafael Antonio Pineda
Episode screening 4 times in Wall-G theater in Tokyo on December 5
---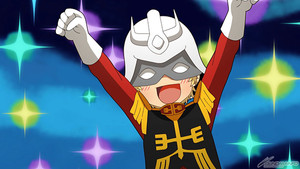 Sunrise's official Gundam portal site revealed on Wednesday that the Gundam Front Tokyo entertainment venue will screen a new short episode of the Mobile Suit Gundam-san parody series titled "Bōya dakara sa" (Because [I'm] a Boy) on December 5. The episode will screen on the Wall-G display on the Diver City Tokyo complex's walls in Odaiba, Tokyo at 6:00 p.m., 7:00 p.m., 8:00 p.m., and 9:00 p.m.
The Gundam Reconguista in G: From the Past to the Future will also screen in the theater on the same day at 7:30 p.m., 8:30 p.m., and 9:30 p.m. The short previously screened in the theater in May.
The venue will also sell Mobile Suit Gundam-san shirts and towels, limited to the day only.
Mobile Suit Gundam-san shorts were also shown before screenings of Mobile Suit Gundam: The Origin I: Blue-Eyed Casval in February.
The Mobile Suit Gundam-san anime premiered in July and ran for 13 five-minute episodes. The series adapted Hideki Ohwada's four-panel manga that places Mobile Suit Gundam characters in mundane but comical situations. Ohwada launched the manga in 2001 in Kadokawa's Gundam Ace and Kadokawa shipped the 13th compiled volume on July 25.
---