News

Pokémon XY & Z Film's Teaser Reveals Volcanion

posted on by Rafael Antonio Pineda
Main visual, posters, returning characters confirmed for film premiering on July 16
---
The official website for the upcoming Pokémon the Movie XY & Z (temporary title) film began streaming a teaser for the film on Friday. The video previews the appearance of Volcanion.
Pokémon anime franchise director Kunihiko Yuyama is returning to helm the film. The film will premiere on July 16. The website also unveiled a visual for the film.

Additionally, the website has revealed two posters for the film.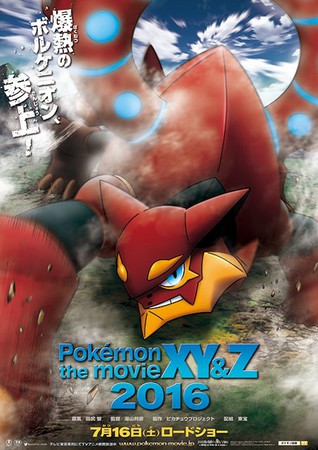 The two previous Pokémon XY films have each featured a Pikachu anime short that screened before the film.
The following characters and their returning cast are confirmed for the film: Satoshi (Ash), Pikachu, Serena, Citron (Clemont), Eureka (Bonnie), Musashi (Jessie), Kojirō (James), Nyarth (Meowth), and the Narrator.
The January 2016 issue of Shogakukan's Monthly Coro Coro Comics magazine previewed Volcanion on Tuesday, describing it as a "Mythical Pokémon." Volcanion is a steam Pokémon whose type is both fire and water, and it is 1.7 meters (5.5 feet) tall and weighs 195 kg (430 lbs). Volcanion is the 721st Pokémon and the final Pokémon in the Pokédex as of the sixth generation.
The August issue of Monthly Coro Coro Comics had revealed the film in July. The announcement had teased "I- Is this a new Pokémon!?"
Pokémon the Movie: Hoopa and the Clash of Ages (Pokémon the Movie XY: Ring no Chōmajin Hoopa) premiered in Japan on July 18, and it featured the main cast of Pocket Monsters XY, Legendary Pokémon from past generations, and movie-original characters. The Pikachu to Pokémon Ongakutai (Pikachu & the Pokémon Music Band) anime short screened before the film.
The film aired on the Canadian television channel Teletoon on November 14, and it will air on Cartoon Network on Saturday.
The Pokémon XY & Z television anime series premiered in Japan on October 29. Pokémon XY began airing on Cartoon Network in January 2014.
Source: Anime! Anime!
---