News

Yu-Gi-Oh! Gets 3 New Games for Smartphones, Nintendo 3DS, PC

posted on by Kyle Hallmark
---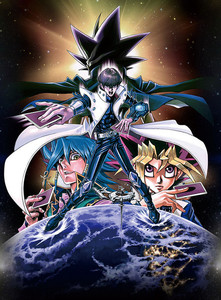 Konami announced on Sunday that it will release three new Yu-Gi-Oh! games for smartphones, Nintendo 3DS, and PC in 2016.
Konami will release first game, titled Yu-Gi-Oh! Duel Links, for iOS and Android in spring 2016. A currently untitled game for Nintendo 3DS is slated for summer 2016, and an online game for PC will follow in winter 2016. No further details are currently available.
Konami released the Yu-Gi-Oh! Legacy of the Duelist card duel simulation game for Xbox One on July 30 and PlayStation 4 on July 31. The US$19.99 digital release was the first Yu-Gi-Oh! game for those consoles.
The Yu-Gi-Oh!: The Dark Side of Dimensions film will open on April 23 in Japan, and in late 2016 outside of Japan. The film has sold the highest number of pre-sale tickets of any Toei film.
Kazuki Takahashi's original 1996-2004 Yu-Gi-Oh! manga launched an international franchise that continues to this day with card games, anime, toys, and newer manga series. The latest anime, Yu-Gi-Oh! Arc-V, premiered in Japan in spring 2014. Konami's media distributor 4K Media began releasing the series internationally this year, and the English dub premiered in Canada on July 24. Takahashi attended Comic-Con International in Japan in July.
Source: 4Gamer and Inside Games via Hachima Kikō
---