News

Schwarzesmarken Anime's 2nd Promo Previews Ending Theme

posted on by Karen Ressler
Cast member unit performs ending for January Muv-Luv spinoff novel adaptation
---
Avex Pictures began streaming a second promotional video for the television anime of the Muv-Luv Alternative spinoff novel Schwarzesmarken on Wednesday. The video features the ending theme song "Kanashimi ga Jidai o Kakeru" (Sadness Runs Through the Times) by Zähre, the unit formed by voice cast members Minami Tanaka and Nozomi Yamamoto. The unit, whose name was chosen from suggestions by the weekly Radio Schwarzesmarken show's listeners, will release the song's CD single on February 24, 2016
The series will premiere on TV Tokyo on January 10, 2016 at 1:05 a.m., and then will run on TV Osaka, TV Aichi, and AT-X. The cast will appear in a live-streamed program on December 22 on the Niconico service.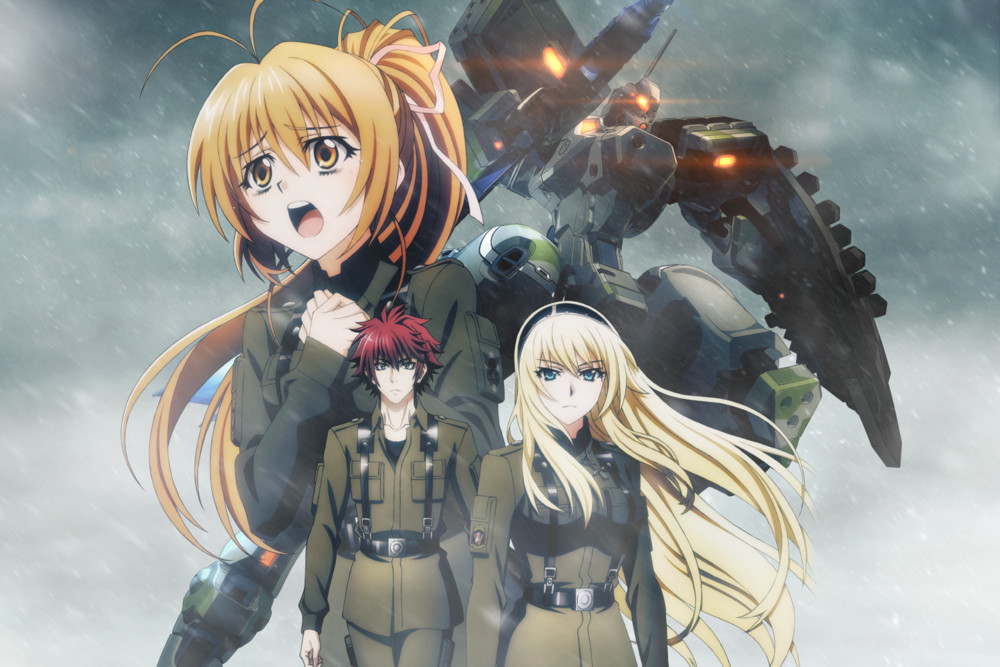 The anime's cast members — who are reprising their roles from the PC games — include:
Kenichi Suzumura as Theodor Eberbach
Minami Tanaka as Katia Waldheim
Nozomi Yamamoto as Irisdina Bernhard
Yoshino Nanjou as Lise Hohenstein
Kiyono Yasuno as Gretel Jeckeln
Chika Anzai as Anett Hosenfeld
Emiri Kato as Pham Thi-Rang
Michiyo Murase as Sylvia Kschessinska
Kenta Miyake as Walther Krüger
Yukari Tamura as Beatrix Brehmer
Ken Narita as Heinze Axmann
Manami Numakura as Circe Steinhoff
The novel's story focuses on the 666th in 1983, 18 years before the events of the earlier serialized novel Muv-Luv Alternative: Total Eclipse. Both novels are spinoffs of Age's 2006 visual novel software Muv-Luv Alternative.
Tetsuya Watanabe (Strain: Strategic Armored Infantry, Zone of the Enders, Rumbling Hearts) is directing the series at Ixtl and LIDEN FILMS. Tatsuto Higuchi (CROSS ANGE Rondo of Angel and Dragon, Bakumatsu Gijinden Roman) is handling the series composition, Shuichi Hara (Alice in the Country of Hearts: Wonderful Wonder World ) is adapting CARNELIAN's original character designs, Satoshi Motoyama is serving as sound director, Evan Call is the music producer, and Elements Garden is in charge of the music. Sanzigen is handling the show's 3DCGI.
fripSide is performing the anime's opening theme song "white forces." In addition, fripSide also performed the theme song "1983-Schwarzesmarken-" for the Schwarzesmarken: Kōketsu no Monshō (Schwarzesmarken: Crest of Red Blood) PC game that the company Age debuted on November 27.
Hiroki Uchida wrote the novel's scenario, and CARNELIAN designed the characters and provided illustrations. Age's Hirohiko Yoshida is credited as the original creator. The novel ran for 41 chapters from 2011 to 2014 and was compiled into seven volumes. The novel was succeeded by the Schwarzesmarken Requiem light novel series by the same author and artist.

The novels have two PC games, titled Schwarzesmarken Kōketsu no Monshō (Crest of Red Blood) and Schwarzesmarken Junkyōsha-tachi (Martyrs, this is a tentative title). Schwarzesmarken Kōketsu no Monshō shipped in Japan on November 27, and Schwarzesmarken Junkyōsha-tachi is slated for winter.
The Muv-Luv Alternative: Total Eclipse anime premiered in Japan in 2012 from Ixtl and Satelight. Crunchyroll streamed the series as it aired, and Sentai Filmworks released the series on home video.
Thanks to Kagayaki for the news tip.
---