News

Mahō Shōjo Nante Mō Ii Desu Kara. TV Anime's Ad Previews Cast

posted on by Crystalyn Hodgkins
---
The official website for the TV anime adaptation of Sui Futami's Mahō Shōjo Nante Mō Ii Desu Kara. (I've Had Enough of Being a Magical Girl) magical girl comedy manga began streaming the show's first commercial on Thursday.
Miton: Starting from today, you're also a magical girl.
Yuzuka: I don't want to become one!
Miton: In a cute swimsuit-
Yuzuka: I've had enough!
Both: Mahō Shōjo Nante Mō Ii Desu Kara.'s broadcast starts in January 2016
The video reveals that the anime will premiere on Tokyo MX on January 11 at 25:11 (effectively January 12 at 1:11 a.m.). The series will also air on Sun TV.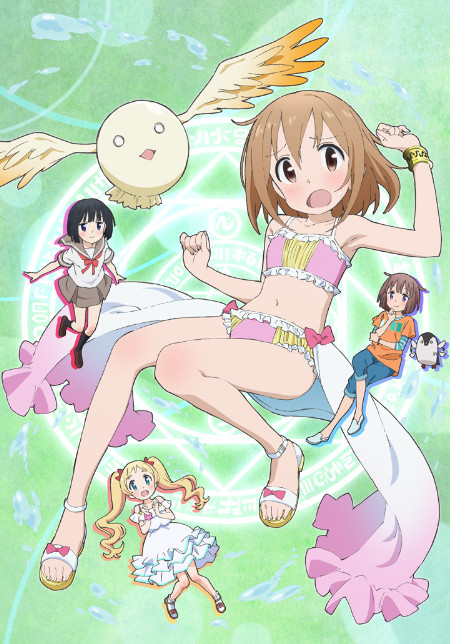 The cast features:
Akane Fujita as Yuzuka Hanami (center in image above)
Yūki Wakai as Miton (top left creature)
Miku Itō as Mafuyu Shinoki (center right girl)
Asuka Nishi as Pochi (center right creature)
Minami Tanaka as Daiya (bottom left)
Nichika Omori as Chiya Sakagami (center left)

Kazuhiro Yoneda (Yona of the Dawn) will direct the anime at studio PINE JAM. Kazuyuki Fudeyasu (Princess Resurrection, Monster Musume, Is the order a rabbit?) is in charge of series composition, and will also write the scripts alongside Momoko Murakami (Kimi no Iru Machi, Locodol, Pretty Rhythm Aurora Dream). Kazuaki Shimada (Yama no Susume, A Lull in the Sea, The [email protected] Cinderella Girls episode animation director) is designing the characters, and is also serving as chief animation director. Masato Nakayama (You and Me. Season 2, My Little Monster) is composing the music with F.M.F, and Yukio Nagasaki (Valkyria Chronicles, Love Live!, Yona of the Dawn) is directing the sound.
The comedy manga follows Yuzuka Hanami, a young girl who has few friends but who can do anything. One day, Yuzuka gets accosted by a strange creature named Miton who is digging through a trash dump. Miton tells Yuzuka, "you have the makings of a magical girl" and seems extremely suspicious. When Yuzuka is suddenly transformed into a magical girl, she's wearing a swimsuit.
Futami launched the series on Earth Star Entertainment's Comic Earth Star website on March 31, and Earth Star Entertainment published the manga's 19th chapter on December 10.
---