News

Gundam UC's New 11th Novel Volume Confirmed for Early 2016

posted on by Egan Loo
New volume planned 7 years after
Harutoshi Fukui
had ended the original story
---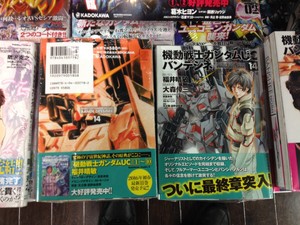 The wraparound jacket band on the regular edition of the 14th Mobile Suit Gundam UC Bande Dessinée manga volume is announcing on Saturday that Harutoshi Fukui's original Mobile Suit Gundam UC novel series is getting a new 11th volume early next year.
The novel series is mainly set in the year Universal Century 0096, 16 years after the events of the One Year War depicted in the first Mobile Suit Gundam anime, and three years after the Mobile Suit Gundam: Char's Counterattack anime film. In a renewed conflict between the Earth Federation and Neo Zeon remnants, the Vist Foundation has a potentially devastating secret from the founding of the Federation a century before.
Fukui had launched the novel series in 2007, and the original story had ended with the 10th volume in 2009. The novel series inspired both an original video anime series (with theatrical screenings) and the Mobile Suit Gundam UC Bande Dessinée manga by artist Kouzo Oomori.
[Via Hachima Kikō]
---