News

Danganronpa: Another Episode Manga From Tōko's Perspective Ends

posted on by Karen Ressler
Kaoru Minamimachi began manga in January
---

The February 2016 issue of Kadokawa's Dengeki Maoh magazine published the final chapter of Kaoru Minamimachi's Zettai Zetsubō Shōjo: Danganronpa AE - Genocider Mode manga on Saturday. The second compiled volume is slated for January 27, 2016.
The manga adapted the story of the Danganronpa Another Episode: Ultra Despair Girls (Zettai Zetsubō Shōjo Danganronpa: Another Episode) spinoff game from the perspective of Tōko Fukawa. Minamimachi began the series in January.
Another manga adaptation of the game has been running on Kadokawa's web manga site Famitsu Comic Clear since January. Kadokawa shipped the first compiled volume in October.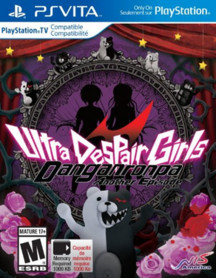 Danganronpa Another Episode: Ultra Despair Girls shipped on PlayStation Vita in Japan in September 2014, and NIS America released the game in North America in September 2015. The spinoff game stars Komaru Naegi, the younger sister of the first game's protagonist Makoto, and Toko Fukawa.
NIS America released the PlayStation Vita ports of the first and second Danganronpa game in North America and Europe last year under the names Danganronpa: Trigger Happy Havoc and Danganronpa 2: Goodbye Despair. Funimation streamed the 2013 anime adaptation as it aired and released the series on home video. Dark Horse Comics licensed Takashi Tsukimi's Danganronpa: The Animation (Danganronpa - Kibō no Gakuen to Zetsubō no Kōkōsei The Animation) manga and plans to release the first four volumes in March.
---