News

Tales of Berseria's Character Visuals, Story Details Revealed

posted on by Rafael Antonio Pineda
Latest Tales of RPG will be for PS3, PS4 in Japan; PS4, PC in the west
---
Bandai Namco Entertainment revealed new character visuals and story information for its upcoming Tales of Berseria role-playing game on Monday. The visuals feature the character designs from Mutsumi Inomata and Minoru Iwamoto.
Rina Satou
as Velvet Crowe
Designed by: Mutsumi Inomata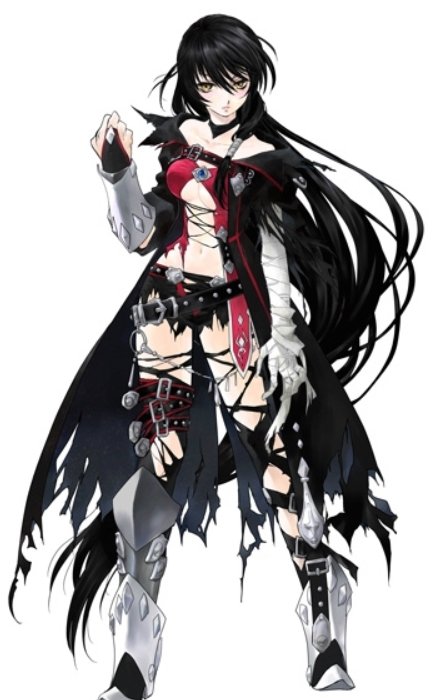 Azumi Asakura as Laphicet
Designed by: Minoru Iwamoto


Bandai Namco Entertainment also revealed that franchise veterans Kousuke Fujishima and Daigo Okumura are designing characters for the game.
The game is set in a world called Wasteland, on a continent named Glenwood — the same continent as the previous Tales of Zestiria, although in a much earlier time period. Central to the setting is the Sacred Kingdom of Midgand, which stretches across multiple large islands and smaller archipelagos. It is large enough to have climate variations ranging between its northern and southern regions, with the northern regions recently experiencing stronger snowstorms as the world grows colder. The Kingdom continues to develop its shipbuilding capability, but due to harsh weather, seaborne trade must still travel well-known paths, which are constantly beset by pirates.
Three years ago, a sickness known as Gōma-byō befell the land. The sickness turns people into demons, and the world has fallen into an age of chaos. Even then, in a remote region of the Kingdom, the protagonist Velvet lived with her family in relative comfort. A night came when a red moon rose, and she was betrayed by people she trusted. She lost her family, while a mysterious power that consumed demons possessed her left arm. A measure of order returned to the world after a savior appeared, but Velvet harbored anger for that savior.
Bandai Namco Entertainment previously streamed an English-subtitled trailer for the game.
The game will ship for PlayStation 4 and PlayStation 3 in Japan in 2016, and will release the game for PlayStation 4 and PC in North America and Europe. Bandai Namco Entertainment has not yet announced a release window for the west.
The upcoming role-playing game will be the first in the Tales of franchise to feature only a heroine as the protagonist (as opposed to Tales of Xillia, which featured a man and a woman as dual protagonists). Animation studio ufotable will animate the game's cutscenes.
The theme of the game is emotion and reason, and it will feature an evolved version of the franchise's familiar Linear Motion Battle System with free run-based character control, free camera movement in battle, and the four actions buttons that can be custom-set for each individual player's desired artes.
Source: Gamer via Hachima Kikō
---