News

Legend of the Galactic Heroes Side Story Audiobook Reunites Original Cast

posted on

2016-01-07

04:15 EST
Julian no Iserlohn Nikki audiobook was released on January 2
---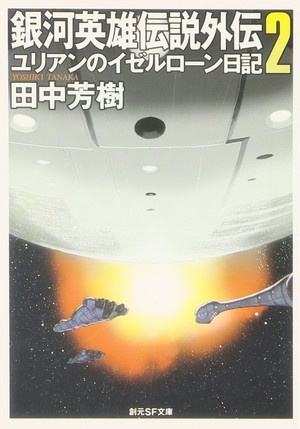 The audiobook version of Yoshiki Tanaka's Ginga Eiyū Densetsu Julian no Iserlohn Nikki (Legend of the Galactic Heroes: Julian's Iserlohn Diary) side-story novel reunites many of the original cast members of the Legend of the Galactic Heroes OVA series. New voice actors also appear in the audiobook for characters that did not appear in the OVA series.
The returning cast for the audiobook includes:
Nozomu Sasaki as Julian Mintz
Keaton Yamada as Alex Cazerne
Kazuhiko Inoue as Dusty Attenborough
Toshio Furukawa as Olivier Poplin
Yoshiko Sakakibara as Frederica Greenhill
Keiichi Nanba as Reiner Brumehart
Keiko Matsuo as Hortence Cazellnu
Kôzô Shioya as Feodor Patrichev
Ryo Horikawa as Reinhard von Lohengramm
Masashi Hironaka as Siegfried Kircheis
Juurouta Kosugi as Kasper Lintz
Kousei Tomita as Alexander Bucock
Voice actors for characters that did not appear in the original OVA series include:
Minoru Shiraishi as Bush, Kidnapper, Senator
Takashi Mito as Headmaster, Television Evangelist, Rear Admiral Sacks, Officer
Minami Takayama as Bruce Ashbey's ex-wife
Wataru Hatano as Rosenritter NCO, Politician, Major Lan Ho
Yoshimitsu Shimoyama as POW, Civilian
Shino Kakinuma as Poplin's woman
Nobuaki Kanemitsu as Lieutenant Parcast, Soldier
The audiobook was released on January 2. Yoshiki Tanaka originally published the Ginga Eiyū Densetsu Julian no Iserlohn Nikki novel in 1987.
Tanaka's space opera novel series follows the epic conflict between the Galactic Empire and Free Planets Alliance, as well as the personal stories of Imperial Admiral Reinhard von Lohengramm and the Alliance's Yang Wen-Li. The 10 main novel volumes and four side-story volumes in the Legend of the Galactic Heroes saga have sold 15 million copies and earned Tanaka a Seiun Award. Besides Legend of the Galactic Heroes, Tanaka also wrote the original novel inspirations for The Heroic Legend of Arslan, Ryoko's Case File, Sohryuden - Legend of the Dragon Kings, and Tytania anime projects.
Viz Media's Haikasoru imprint has licensed the original novel series and plans to release the first three novels in spring 2016.
The late director Noboru Ishiguro (Macross, Orguss, Megazone 23) and his Artland anime studio spent more than a decade adapting the novels into a theatrical and video anime franchise, with over 100 installments, from 1988 to 2000. Sentai Filmworks has licensed the video anime series for home video.
Production I.G. is producing a new anime project slated for 2017.
Source: Anime! Anime!
---