News

Splatoon Wii U Game Gets 2 Manga

posted on by Rafael Antonio Pineda
Honobono Ika 4-Koma, Play Manga to launch in Weekly Famitsu
---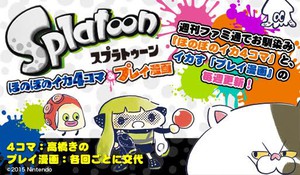 Kadokawa's Famitsu.com website announced on Thursday that its Weekly Famitsu magazine will begin serializing two manga based on Nintendo's Splatoon Wii U shooter game. Kino Takahashi will launch the Honobono Ika 4-Koma manga, while different manga creators will contribute stories to Play Manga.
Splatoon is a third-person-shooter game that Nintendo released exclusively for the Wii U on May 28 in Japan and May 29 in the U.S. The game centers on "Inklings," who are beings who can transform between human and squid form. The game pits players in a fight for territory as two teams fight to cover their battlefield with their respective paint colors. Nintendo released an update for the game in November featuring new maps, new gear, and new costumes.
Splatoon previously collaborated with manga creator Masahiro Anbe (Squid Girl) to promote the game.
---