News

Tsuyoshi Yasuda's DAYS Soccer Manga Gets TV Anime

posted on by Crystalyn Hodgkins
Sports series by
Over Drive
creator launched in 2013
---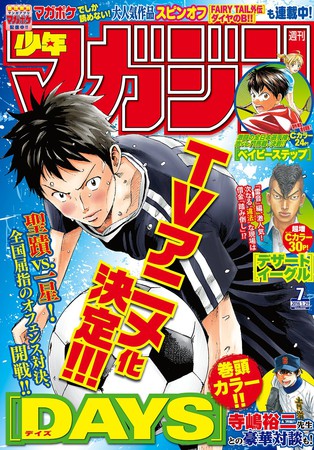 The cover of this year's seventh issue of Kodansha's Weekly Shonen Magazine (pictured at right) is announcing on January 13 that Tsuyoshi Yasuda's DAYS soccer manga is getting a TV anime adaptation. The issue will also feature a color opening page for the manga.
The manga centers on two boys who were never meant to meet: Tsukushi Tsukamoto, who has no special skills but secretly hides a passionate heart, and Jin Kazama, an isolated soccer genius. On a stormy night, the two meet, and that meeting creates a whirlwind in the world of high school soccer.
Yasuda launched DAYS in Weekly Shonen Magazine in April 2013, and Kodansha published the 14th compiled volume on November 17. The company will publish the 15th compiled volume on January 15. The manga was nominated in the Best Shōnen Manga category for Kodansha's 39th Annual Manga Awards in March, and it ranked at #12 on the Honya Club website's "Nationwide Bookstore Employees' Recommended Comics of 2014" list.
Yasuda's Over Drive bicycle manga was adapted into a 26-episode television anime series with director Takao Kato (Busou Renkin, To Love-Ru) in 2007.
---