News

Newspaper: 4 SMAP Members to Leave Agency After Manager's Resignation

posted on by Rafael Antonio Pineda
Newspaper cites conflict between manager, agency VP as reason for breakup
---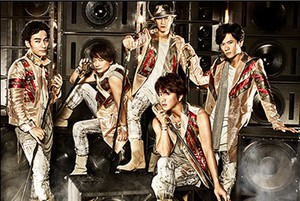 The Nikkei Asian Review website confirmed on Thursday an earlier report that male idol group SMAP members Masahiro Nakai (43), Tsuyoshi Kusanagi (41), Goro Inagaki (42), and Shingo Katori (38) are in talks to leave the Johnny & Associates talent agency, with only Takuya Kimura (43) staying with the agency. The report noted that the move follows the imminent resignation of SMAP's long-time manager Michi Ijima from her position as director of subsidiary company J dream Inc. (which manages SMAP), and from the agency.
Johnny & Associates Inc. has released a statement that confirms that it is in talks with some members of SMAP regarding a possible departure from the agency, but added that it couldn't provide any other information at this time.
In addition, the Sports Hochi newspaper reported on Thursday that the group consisting of Nakai, Kusanagi, Inagaki, and Katori had been considering leaving the agency since September last year. According to Sports Hochi's sources within the agency, a conflict had developed between Ijima and Mary Kitagawa, Johnny Kitagawa's sister and the vice president of the agency.
Sports Hochi cited an interview with Mary Kitagawa in the Shūkan Bunshun magazine published in January last year as the impetus for Nakai's inclination to quit the agency. In the interview, when asked why SMAP and fellow Johnny & Associates male idol group Arashi don't appear together, Mary responded, "Because SMAP can't dance. The ones who can dance can see that [SMAP] can't dance." Ijima herself was present during the interview.
Newspaper Sankei Sports additionally reported on Thursday that Kimura is planning to stay with the agency because his wife — singer and pop idol Shizuka Kudou — asked him to, saying, "[Takuya] can't betray Mary. I want [Takuya] to stay, and think about the children," referring to their children Kokomi and Mitsuki.
SMAP is still under contract for commercials. The group's variety show SMAP×SMAP is also ongoing.
SMAP (Sports Music Assemble People) formed in 1988 with six members, although Katsuyuki Mori left the group in 1996. The band debuted with their first single in September 1991, and went on to put out a number of hit songs, such as "Sekai ni Hitotsu Dake no Hana," "Yozora no Mukō," and "Lion Heart." "Sekai ni Hitotsu Dake no Hana" sold 2.5 million single CDs.
Together the group performed theme songs for Hime-chan's Ribbon and Lil' Red Riding Hood Cha-Cha. They have also had separate acting careers. Kimura has voiced Howl in Hayao Miyazaki and Studio Ghibli's Howl's Moving Castle film and JP in Takeshi Koike and Madhouse's Redline film, and starred in the live-action film of the space opera anime classic Space Battleship Yamato (adapted as Star Blazers in English). Kusanagi played Peter in The Diary of Anne Frank anime movie and Kouichi in Hime-chan's Ribbon. Inagaki played the Kamen Rider G lead in the live-action special of the same name and Dr. Ratchet in the One Piece: Karakuri Shiro no Mecha Kyohei film. Katori has played Riiya the kid werewolf in Lil' Red Riding Hood Cha-Cha, Hattori-kun in the live-action Ninja Hattori Kun The Movie, and Kankichi in the 2009 live-action drama adaptation of Osamu Akimoto's Kochira Katsushika-ku Kamearikouen-mae Hashutsujo ("Kochikame") police comedy manga.
[Via Yaraon!, Hachima Kikō]
---