News

Koei Tecmo's Attack on Titan Gameplay Videos Focus on Levi

posted on by Karen Ressler
Armored titan, beast titan announced for game
---
The official website for KOEI Tecmo Games' upcoming Attack on Titan game began streaming a series of videos on Friday titled "Teach Me, Captain Levi," introducing the stages of gameplay.
Meeting with characters at the camp:
Pre-battle event scene:
Battle:
Post-battle event scene:
The website also revealed that the armored titan and the beast titan will appear in the game.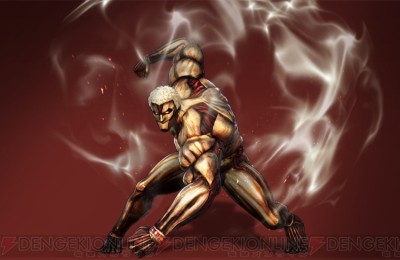 The game will offer some original weapons, such as daggers and Japanese-style swords.



The game will have 10 playable characters: Eren, Mikasa, Armin, Krista, Sasha, Conny, Jean, Levi, Hange, and Erwin. Non-playable characters that will appear in the game include Ymir, Reiner, Bertolt, Marco, Keith, Pyxis, Ian, Rico, and the female titan.
The game will be set during the Battle of Trost. Players can freely walk around in the barracks and town and converse with other characters, upgrade weapons, and gain intelligence on upcoming missions. A tutorial mode for the game will be available, which will take place in a level modeled after the 104th Training Corps' drill grounds.

Koei Tecmo Games' Omega Force subsidiary (Warriors/Musou franchise) is developing the game for PlayStation 4, PlayStation 3, and PS Vita and plans to release it in Japan on February 18. The game is also slated for North America and Europe next year.
The PS4 and PS3 regular package editions retail for 7,800 yen (US$63), and the PS4 and PS3 download editions retail for 6,762 yen (US$55). The regular PS Vita package edition retails for 6,800 yen (US$55) and the download edition retails for 6,000 yen (US$49).
Those who receive first edition copies of the game will receive serial codes for "Cleaning" costumes for Eren and Levi as well as a "Feather Duster Blade." The game will also have a "Treasure Box" edition, which will contain the game, an "Official Survey Record Collection," the game's soundtrack, a muffler towel, two sets of Eren, Mikasa, and Levi tin badges, and a download code for Armin's Attack on Titan: Junior High costume. The "Treasure Box" edition retails for 12,800 yen (about US$104) for PS4 and PS3, and for 11,800 yen (US$96) for PS Vita.
[Source: Dengeki Online]
---