News

Crunchyroll Adds Shingu Anime, Sound of the Sky Episode 7.5 to Catalog

posted on by Crystalyn Hodgkins
Site also reveals policy changes for Canadian users
---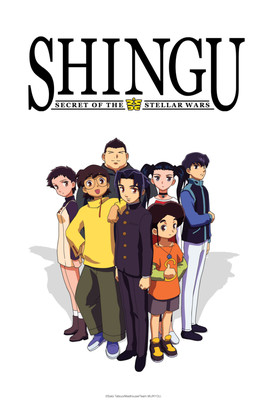 Media distribution site Crunchyroll announced on Friday that it has added the Shingu: Secret of the Stellar Wars anime to its catalog. The site has also added episode 7.5 of Sound of the Sky (So-Ra-No-Wo-To) to its catalog. Both new titles are available to users in the United States and Canada.
Tasuo Sato (Bodacious Space Pirates, Lagrange - The Flower of Rin-ne, Stellvia) directed and wrote the script for the 26-episode Shingu: Secret of the Stellar Wars television anime series. The anime originally aired in 2001. Crunchyroll describes the series as follows:
The world is about to be turned upside down for Hajime Murata. First, an alien ship appears over Tokyo, and then a mysterious new student shows up at his school. Suddenly, students are displaying psychic powers, a giant defends the city from aliens, and men armed with weapons are lurking around the school. Now Hajime is determined to discover the truth behind a world he thought he knew!
Right Stuf released the series on individual DVDs in 2005, then in complete collection DVD sets in 2007, 2011, and 2013.

Crunchyroll streamed the Sound of the Sky television anime series as it aired in 2010, and the site is still streaming episodes 1-12 and the bonus 13th episode. Right Stuf and Nozomi Entertainment licensed the series and released it on DVD in 2011 and again in a Litebox version in 2013. Both versions contained the bonus episodes 7.5 and 13.
Crunchyroll also announced an update for Canadian users on Friday. Starting on February 1, catalog titles will be available in Canada only to Premium subscribers. Free subscribers in Canada will still be able to watch currently airing series. New episodes of currently airing titles will be available for 13 weeks, and then they will be available to Premium members only. Crunchyroll explained the change:
As we strive to continue improving our Premium service on a global level, there are many factors that must be considered on a region by region basis. For the past 5 years, despite fluctuation in the Canadian exchange rates and the rising cost of licensing and streaming anime, the price of Crunchyroll Premium has remained the same. Our goal is to continually improve our Premium user experience and deliver the highest quantity and quality of anime and manga titles to all subscribers, including the latest premieres straight from Japan, without raising the price of our Premium service.
---