News

Nintendo Reveals Fire Emblem Fates New Nintendo 3DS XL Variant

posted on by Rafael Antonio Pineda
System debuting alongside game on February 19, but will not include game
---
Nintendo revealed on Tuesday that it will offer a Fire Emblem Fates variant of the New Nintendo 3DS XL system in North America. Nintendo will release the system for US$199.99 on February 19, the same day as the North American release of the game itself. However, the system will not include the game.

Like the Japanese release, the North American release of the game will come in three different versions, each following different stories around the same characters depending on the protagonist's choice. The first two versions, titled "Birthright" and "Conquest," will be available with physical releases for US$40 each. Owners of either version will be able to purchase the other version at US$20. In addition, the third "Revelation" version will be available as DLC after the game's release for US$20.
Nintendo will also offer a US$80 Special Edition of the game, which includes all three versions, an artbook, and a Nintendo 3DS XL pouch.
Nintendo will offer downloadable content for the game in the form of maps on a continuous basis after the game's release. Players will be able to buy the maps individually, or as a bundle.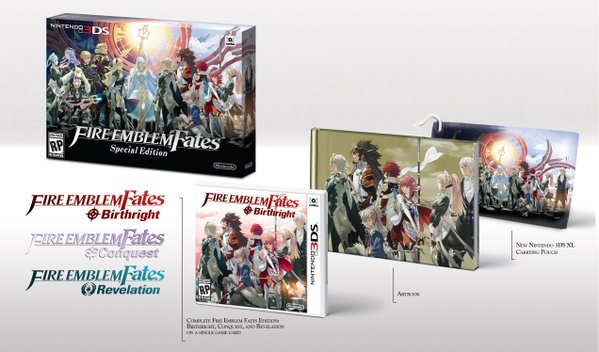 Nintendo shipped Fire Emblem Fates in Japan under the original title Fire Emblem if on June 25.
[Via Siliconera]
---