News

Grimgar of Fantasy and Ash's 3rd Episode Anime Music Video Streamed

posted on by Kyle Hallmark
Blu-ray Disc/DVD commercial, special event ad also streamed
---
Toho Animation began streaming an anime music video for Grimgar of Fantasy and Ash on Sunday, featuring the third episode insert song "Stand on the Ground" by (K)NoW_NAME.
(K)NoW_NAME is a new project founded by Toho Animation Records. The project produced the opening ("Knew Day") and ending ("Harvest") theme songs, as well as songs within the anime.
The end of the video reveals that (K)NoW_NAME's single for the opening theme song will ship on February 17, and it will also feature the insert songs "Stand on the Ground" and "Nutrient."
Toho Animation previously streamed music videos featuring the second episode insert songs "seeds" and "Brave Storm" and the first episode insert song "Head Wind," as well as a commercial for the ending theme song single that ships on February 17.
Toho Animation also began streaming a commercial for the anime's home video release on Sunday. Toho Animation streamed a 30-second commercial for the release last week.

The first Blu-ray Disc and DVD volume of the anime will include a 10-minute original video animation titled "Episode 2.5." The home video release will also include an original story written by original light novel series author Ao Jūmonji, a world guidebook, a priority sales application ticket for a cast event, and special cover art by character designer Mieko Hosoi (seen right).
The anime's official website is listing the home video release of the anime with 12 episodes.
The first home video release will ship on March 16. The Blu-ray version will cost 6,800 yen (about US$57), while the DVD version will cost 5,800 yen (about US$49).
Additionally, Toho Animation began streaming an advertisement for an upcoming special event called "Grimgar, Live and Act" on Sunday. The event will be held on June 19 at Katsushika Symphony Hills' Mozart Hall in Tokyo, and will feature the voice actors of the main cast.

The series premiered on January 10. FUNimation Entertainment is streaming the series as it airs in Japan, and describes the show:
From A-1 Pictures, the studio behind Fairy Tail and Sword Art Online: When Haruhiro awakens, he's in the dark surrounded by people who have no memory of where they came from or how they got there. As the darkness fades, a fantastic new world called "Grimgar" appears before them and their adventure begins—but first, they'll have to choose their guild, class, and special abilities.
The cast includes:
Yoshimasa Hosoya
(
Attack on Titan
's Reiner Braun) as Haruhiro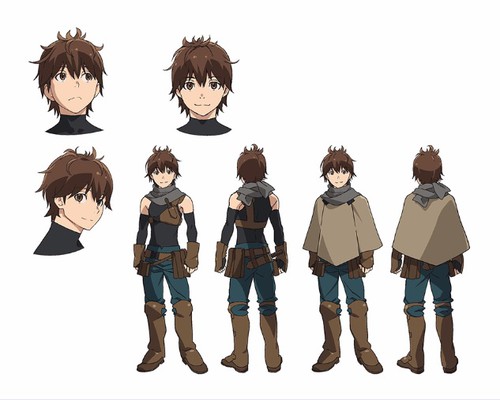 Tomokazu Seki (Fate/stay night's Gilgamesh) as Renji


Daisuke Namikawa (Fate/Zero's Waver) as Kikkawa


Hiroki Yasumoto (Yowamushi Pedal's Shingo Kinjō) as Britney


Mamiko Noto (The Garden of Sinners' Fujino Asagami) as Barbara


The series is based on Ao Jūmonji's Hai to Gensō no Grimgar (or Grimgar le Monde des cendres et de fantaisie) light novel series. Ryosuke Nakamura (Aiura director and scriptwriter, Mōryō no Hako director) is directing and writing the scripts at A-1 Pictures. Tomotaka Shibayama is serving as assistant director with Kazuyuki Asaga and Ken Baba as key animators, and Mieko Hosoi (Shōwa Genroku Rakugo Shinjū, Psychic School Wars) is designing the characters. Hidetoshi Kaneko is directing the art, and Takahiro Mogi is the color key artist. Shinichi Igarashi is the director of photography, and Aya Hida is editing.
Author Ao Jūmonji and illustrator Eiri Shirai launched the light novel series in 2013, and Overlap Bunko published the sixth novel last October. Mutsumi Okubashi launched a manga adaptation in Square Enix's Gangan Joker magazine last April.
---