News

Live-Action Nobunaga Concerto Film Stays at #2, Earns 3.2 Billion Yen

posted on by Rafael Antonio Pineda
---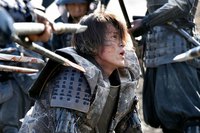 The live-action film of Ayumi Ishii's Nobunaga Concerto historical manga stayed at #2 in its fourth weekend, the weekend of February 13-14. The film sold 221,760 tickets over the weekend, and earned 283,385,300 yen (about US$2.48 million). The film has sold a cumulative 2.54 million tickets and earned 3.2 billion yen (US$28 million) in four weeks. The film is still playing on 324 screens.
The Martian stayed at #1 in its second weekend, while Star Wars: The Force Awakens also stayed at #4 in its ninth weekend.

Eiga Yo-kai Watch: Enma Daioh to Itsutsu no Monogatari da Nyan!, the second film in the Yo-kai Watch franchise fell from #6 to #7 in its ninth weekend on 358 screens.

The Shuriken Sentai Ninninger vs. Ressha Sentai ToQGer: The Movie - Ninja in Wonderland film combining the 38th and 39th Super Sentai series fell from #7 to #10 in its fourth weekend on 318 screens.

The fifth and final Code Geass: Akito the Exiled episode fell from #9 off the chart, while the Selector Destructed Wixoss film opened at #12. The film opened last Saturday.
Sources: Eiga.com, Movie Walker
---