News

Mayoiga Original TV Anime Begins Crowdfunding

posted on by Karen Ressler
Also: ending theme song title revealed for April anime
---

The staff of the Mayoiga original TV anime series opened campaign on crowdfunding platform Makuake this week. The project is seeking to raise 3,330,000 yen (about US$29,500) in order to support the anime's production.
The project is offering five tiers of rewards for backers from 3,000 to 400,000 yen (about US$27 to US$3,500). The top-tier rewards include a "mystery bus tour" with cast and staff members.
As of press time, the project has earned 355,000 yen (about US$3,140) with 58 days remaining.
In addition, singer/songwriter Rina Katahira announced over Twitter that her ending theme song for the series will be titled "Ketsuro" (Dew). The single will ship on April 27.
The anime will premiere on WOWOW on April 1 at 11:30 p.m., before premiering on MBS, TBS, and CBC on April 8 and on BS-TBS on April 9. The series will air on MBS's "Animeism" programming block.
The series will star:


Kōdai Sakai (Pupa's Yuuhei Arita) as 16-year-old student Mitsumune. His grades are excellent but he doesn't boast about it, and he easily trusts even-tempered people.


Yuka Aisaka (Active Raid's Hinata Yamabuki) as 17-year-old student Masaki. She doesn't like eccentric young-girl types very much, but she is honest, cheerful, and earnest.


Taku Yashiro (This Boy is a Professional Wizard's Toyohi Utsumi) as 16-year-old student Hayato. He handles his classwork flawlessly, and he has a nice appearance. He understands Mitsumune well.


Kaoru Sakura (Dance with Devils, Durarara!!×2 Shō) as 24-year-old graduate student Koharun. She is studying Nanakimura for her school's lab.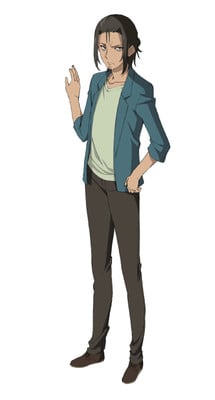 Tatsuhisa Suzuki (Dagashi Kashi's Tō Endō, Free!'s Makoto Tachibana) as 25-year-old programmer Valkana. He caused an uproar by leaking information for the company he was contracted with, but the entire incident was blamed on someone else.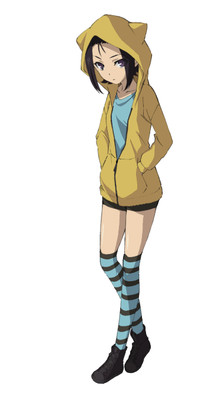 Hiromi Igarashi (Knights of Sidonia's Hinata Momose, Overlord's Yuri Alpha) as 14-year-old student Lion. She has a strong ability to sense the supernatural, and can see things that others can't.
The website describes the story:
30 young men and women who came together on a shady bus tour. The tour's destination: an illusive, possibly nonexistent village called Nanakimura. In Nanakimura, one can lead a utopian existence, free of the world's obstacles … or so it was rumored, like an urban legend.

"In despair over the real world ... wanting to escape the tedious daily life … wanting to restart your life from scratch…"

The bus headed deep into the mountains, carrying 30 people each harboring their own expectations and wounds in their hearts…

And so, the place these 30 arrived at, was an uninhabited village with the lingering faint scents of life, even though it was falling apart.

What is the truth of Nanakimura facing the 30? You can't miss even one episode!

Tsutomu Mizushima (Girls und Panzer, Shirobako, Prison School) is directing the series at anime studio diomedéa (Kan Colle). Mari Okada (anohana: The Flower We Saw That Day, The Anthem of the Heart, Mobile Suit Gundam: Iron-Blooded Orphans) is serving as series script supervisor, Naomi Ide (Kan Colle) is designing the characters, and Mizushima is personally directing the sound at Studio Mausu. Masaru Yokoyama (The Anthem of the Heart, Mobile Suit Gundam: Iron-Blooded Orphans) is composing the music at Pony Canyon.
---