News

Sansha Sanyō Anime's 1st Promo Video Reveals More of Cast, April 10 Debut, Song

posted on by Sarah Nelkin
Schoolgirl characters Yōko, Futaba, Teru perform theme songs
---
The official website for the television anime of Cherry Arai's four-panel manga Sansha Sanyō began streaming the first promotional video on Thursday. The video previews the opening theme "Clover♣Kakumeeshon" by Triple♣Feeling, a unit composed of the three characters Yōko, Futaba, and Teru.
Yōko: Just what is it with you girls!? These are... bread crusts!!
Text: Former high-class lady - Yōko Nishikawa
Futaba: I'm hungry, I'm hungry!
Text: A blast of energy with a never ending hunger - Futaba Odagiri
Teru: I'm the representative for Class 3. It's kind of a pain to get odd jobs thrown at me, though... But I thought it would be good for college applications and stuff.
Text: Dark-hearted class rep - Teru Hayama
Serina: As if I'd take orders from you!
Text: The eternal second snob - Serina Nishiyama
Asako: Wow, Nishiyama! You're tenth in our grade!
Text: One of Nishiyama's few friends - Asako Kondō
Kō: It's my special garlic banana milk!
Text: Teru's big sister - Kō Hayama
Shino: My name is Shino Sonobe.
Text: Former maid of the Nishikawa household - Shino Sonobe
Mitsugu: AHHHHH! BELOVED LADY YŌKO!!!
Text: Former servant of the Nishikawa household - Mitsugu Yamaji
Text: The "My way or the highway" is turning into "slow and steady" in an uproar!
Yōko: I've finally made friends... I have to make sure they don't tire of me!
Futaba: 'Cause we're friends!
Teru: Oh, we were friends?
Yōko: Friends...!

The video also reveals more of the cast, the April 10 premiere, and a new visual for the anime (pictured above). The newly announced cast members and their character designs include:
Kenji Akabane
as Mitsugu Yamaji, a former servant of the Nishikawa household

Asuka Nishi as Kō Hayama, Teru's big sister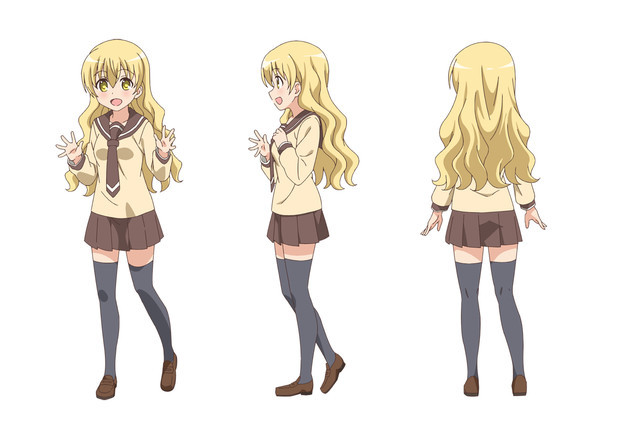 Haruka Watanabe as Yū Takezono, a rich elementary school student

Nao Natsuno as Sakura Usuda, Futaba's cousin

Kotone Kuwayama as Hajime Tsuji, Futaba's rival

Chiemi Tanaka as Sasame Tsuji, Hajime's little sister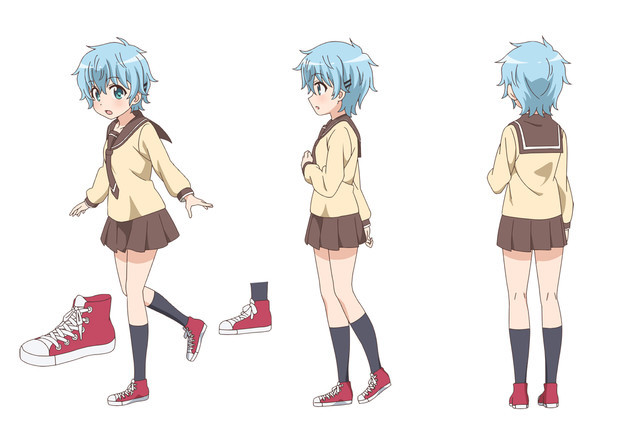 The previously announced cast members include:
Mai Kanazawa
as Futaba Odagiri, a girl who is incredibly energetic but is also a glutton.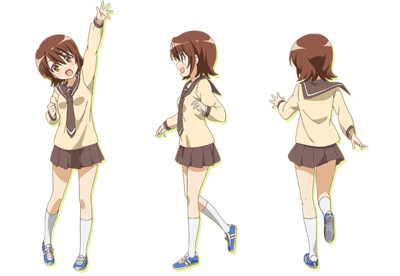 Ayaka Imamura as Teru Hayama, who looks like an angel but is really a demonic class president.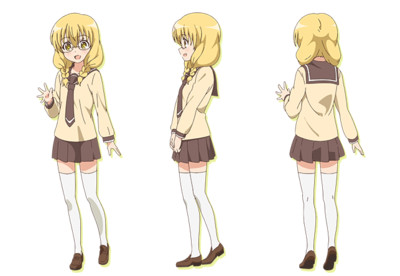 Yū Wakui as Yōko Nishikawa, the daughter of family that used to be a member of the upper class, but after her father's company went bankrupt, they became poor.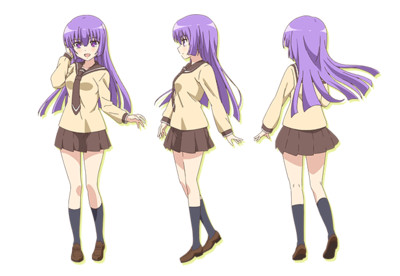 Machico
as Serina Nishiyama, Teru and Futaba's classmate. She declares herself Teru's rival but always loses. As an animal lover, she only gets along with Teru where animals are concerned.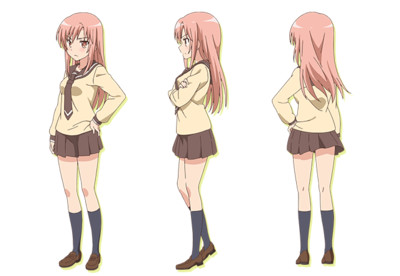 Aina Suzuki as Asako Kondō, one of Nishiyama's few friends, and the one who can calm her down. She has no ill will at all.


Rika Momokawa as Shino Sonobe, a former Nishikawa family maid who now manages a candy store. She loves schemes and conspiracies.


The comedy manga follows the everyday life of three very different high school students, all of whom have the kanji for "leaf" in their name. ("Sansha Sanyō" is a Japanese idiom that means three people who have different personalities to the each other, but the manga's title replaces the final kanji in the idiom with the kanji for "leaf.")
Yasuhiro Kimura (Cute High Earth Defense Club LOVE! episode director) is directing the series at animation studio Doga Kobo. Hideaki Koyasu (Lance N' Masques, GJ Club) is handling series composition and Jun Yamazaki (episode animation director for Senran Kagura: Ninja Flash!, Muromi-san) is designing the characters. In addition to performing the opening theme song "Clover♣Kakumeeshon," the character group Triple♣Feeling is also performing the ending theme song "Gūchoki Parade."
Sources: Comic Natalie, MoCa News
---