News

Sailor Moon Crystal 3rd Season's 1st Trailer Streamed

posted on by Crystalyn Hodgkins
New season adapting Death Busters arc premieres in April
---
The Twitter account for the 20th anniversary of the Sailor Moon franchise posted a trailer for the Pretty Guardian Sailor Moon Crystal: Season III television anime series on Sunday.
The Twitter account posted the trailer to celebrate the birthday of character Michiru Kaiō (Sailor Neptune). The show's staff had screened the first episode at an event in Tokyo on Sunday.
The third season will premiere in April and will air on Tokyo MX1 on Mondays at 11:00 p.m.
The third season will feature new staff. Chiaki Kon (Nodame Cantabile: Paris, Junjō Romantica, Golden Time) will take over from Munehisa Sakai in directing the anime. Akira Takahashi (Dokidoki! Precure, Suite Precure character design, Sailor Moon Crystal episode animation director) will take over from Yukie Sako in drawing the character designs. Yūji Kobayashi is still in charge of the series' scripts. Takashi Kurahashi is returning as art director, and Yasuharu Takanashi is returning to compose the music. King Records will once again produce the music, and Toei Animation will again animate the series.
The third season will focus on the Death Busters arc (also called the Infinity arc), adapting the arc from the fifth and sixth volumes of the complete edition of Naoko Takeuchi's original Sailor Moon manga.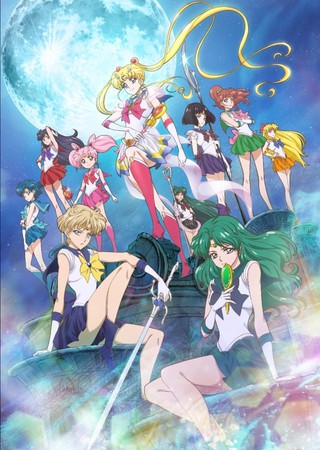 Kotono Mitsuishi will continue to reprise the starring title role for the third season. Other returning cast members for the third season include:
Hisako Kanemoto as Ami Mizuno/Sailor Mercury
Rina Satou as Rei Hino/Sailor Mars
Ami Koshimizu as Makoto Kino/Sailor Jupiter
Shizuka Itou as Minako Aino/Sailor Venus
Ryou Hirohashi as Luna
Kenji Nojima as Tuxedo Mask/Mamoru Chiba
New cast members include:
Junko Minagawa as Haruka Tenou/Sailor Uranus
Sayaka Ohara as Michiru Kaioh/Sailor Neptune
Yukiyo Fujii as Hotaru Tomoe/Sailor Saturn
Hikari Yono as Kaolinite
Takuya Kirimoto as Professor Tomoe
Takaya Hashi as Pharaoh 90
Yuki Nagaku as Mimete
Chiaki Takahashi as Eudial
Rina Hon'izumi as Viluy
Naomi Ozora as Tellu
Umeka Shouji as Cyprine
Crunchyroll, Niconico, Hulu, and other services streamed the first two Sailor Moon Crystal seasons overseas as they debuted online in Japan. Viz Media licensed both seasons for release in North America.
Update: Replaced Twitter video with YouTube video.
---
This article has a follow-up:
Sailor Moon Crystal 3rd Season's Premiere Date, Theme Songs Revealed
(2016-03-06 04:00)