News

36th Doraemon Film Opens at #1, Earns 637 Million Yen

posted on by Rafael Antonio Pineda
---

Eiga Doraemon Shin Nobita no Nihon Tanjō (Doraemon the Movie: Nobita and the Birth of Japan 2016), the 36th anime film in the Doraemon franchise, opened on 374 screens last Saturday. It sold 544,816 tickets for 637,035,600 yen (about US$5.62 million) to rank #1 on its opening weekend. The film is tracking to earn 98.8% of last year's Doraemon film, Doraemon: Nobita no Space Heroes, which ended its theatrical run with a grand total of 3.93 billion yen (US$34.72 million).
The new film remakes the 1989 Doraemon: Nobita at the Birth of Japan film. The earlier film sold 4.20 million tickets, which is the franchise record (excluding the CG film Stand By Me Doraemon).

The live-action film of Makino's shōjo manga Kurosaki-kun no Iinari ni Nante Naranai dropped from #1 to #2 in its second week on 160 screens. The film sold 104,669 tickets and earned 119,364,700 yen (US$1.07 million).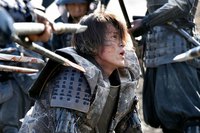 The live-action film of Ayumi Ishii's Nobunaga Concerto historical manga dropped from #3 to #5 in its seventh weekend on 324 screens. Its box office gross has topped 4 billion yen (US$35 million).
Sailor Suit and Machine Gun: Sotsugyō (Sailor Suit and Machine Gun: Graduation), a spiritual sequel to the 1981 Japanese classic film (based on a novel by Jirō Akagawa), opened at #12. It features Rev. from DVL idol group member Kanna Hashimoto in her first starring role in a film.
The Girls und Panzer film dropped off the chart in its 16th weekend. It had returned to the top 10 for two weeks after adding the immersive, multi-sensory 4DX experience to select theaters.
Source: Oricon, Eiga.com, Movie Walker
---