News

Space Patrol Luluco Anime's 1st Ad Previews M.A.O as Luluco (Updated)

posted on

2016-03-18

03:00 EDT by Jabulani Blyden
New key visual, ending theme artist revealed for series premiering on April 1
---
Studio Trigger began streaming on Thursday the first commercial for Hiroyuki Imaishi's (Kill la Kill, Gurren Lagann, Panty & Stocking with Garterbelt) Uchū Patrol Luluco (Space Patrol Luluco) TV anime series of shorts.
(This video is not available in all regions.)
Luluco: Everyone, how are you? I'm Luluco. There's huge secret that I must absolutely keep confidential. You see, somehow, somehow, I'm becoming an anime! New program, Space Patrol Luluco, starts in April. Definitely check it out!
The official website also revealed a new key visual.

The website has also revealed that Teddyloid featuring Bonjour Suzuki will perform the as-yet untitled ending theme song. The temporarily named "Fujirock" group will perform the as-yet untitled opening theme song.
The "intergalactic first love story" show takes place in Ogikubo, which is the name of the specially designated area in space in the Milky Way where Earthlings and aliens can live together. Luluco is a female middle school student who lives with her father, and no matter where she is, Luluco is a common, "super normal" girl. As she is living her normal life, one day the mysterious transfer student ΑΩ Nova abruptly appears before her. That meeting will change Luluco's fate.
The show stars:
M.A.O as Luluco
Junya Enoki as ΑΩ Nova
Mayumi Shintani as Midori
Tetsu Inada as Over Justice's general manager
Mitsuo Iwata as Keiji (Detective)
Trigger and Imaishi are credited with the original work, and Imaishi is directing the series and overseeing the scripts. Akira Amemiya (Inferno Cop) is serving as second director, and Hiromi Wakabayashi (setting production for Gurren Lagann, script for Inferno Cop, Panty & Stocking with Garterbelt) is the creative director. Mago and Yusuke Yoshigaki (Ninja Slayer From Animation, Black Rock Shooter) are the character designers, Shigeto Koyama (design for Gurren Lagann, Eureka Seven, mecha design for Star Driver) is handling the "Justice design," and Yoshigaki and Shūhei Handa (Kill la Kill, Terraformars) are the chief animation directors.
Uchū Patrol Luluco will premiere as part of the fourth season of Ultra Super Anime Time on AT-X on April 1 at 10:30 p.m. before airing on Tokyo MX on April 1 at 11:00 p.m. and on BS11 on April 4 at 1:00 a.m. Niconico is also streaming the series for Japanese audiences.
The series will also stream on Crunchyroll starting on April 1 at 10:30 p.m. JST (9:30 a.m. EDT).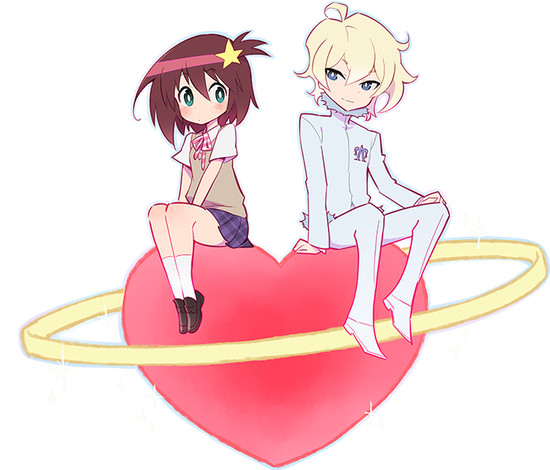 The work will commemorate five years since Trigger was established. Tigger's five-year anniversary will be in August.
Update: Added a new region-free video. The previous video was not available in all regions. Thanks to Dennis R for the embedded video.
---