News

HK/Hentai Kamen Sequel's Trailer Revives Panty-Mask Superhero

posted on by Rafael Antonio Pineda
Watch the world's panties fly away in the air in film with CTS &
Shiho Nanba
theme song
---
The official website for the HK/Hentai Kamen The Abnormal Crisis sequel film began streaming a trailer for the film on Monday. The trailer reveals and previews the film's theme "WAVINESS feat. Shiho Nanba" by CTS featuring Shiho Nanba.
Reporter: Panties are flying all over Tokyo!
Text: It's been three years since that shocking event...
Reporter: Cases of panties disappearing are increasing!
Man: Because Hentai Kamen is dead.
Aiko: Looks like Hentai Kamen is just as active as ever.
Aiko: Give me back my panties.
Kyōsuke: If I keep being Hentai Kamen, I'll just keep putting Aiko in danger...
Aiko: Kyōsuke!
Man: I shall appropriate this woman.
Kyōsuke: Aiko!!!
Text: Forbidden Reboot
Kyōsuke: Forbidden Ecstacy!
Text: A film by director Yūichi Fukuda
Kyōsuke: I have the strongest enemy yet on my hands, and my beloved was taken away from me. Please, make me an even stronger pervert!!
Text: Justice and panties have vanished from the world
Aiko: You can't die!!
Kyōsuke: It's not like just anyone's are good enough. They have to be yours, Aiko!
The staff unveiled a new visual for the film. The tagline below reads, "Panties have disappeared from the world. Justice has disappeared."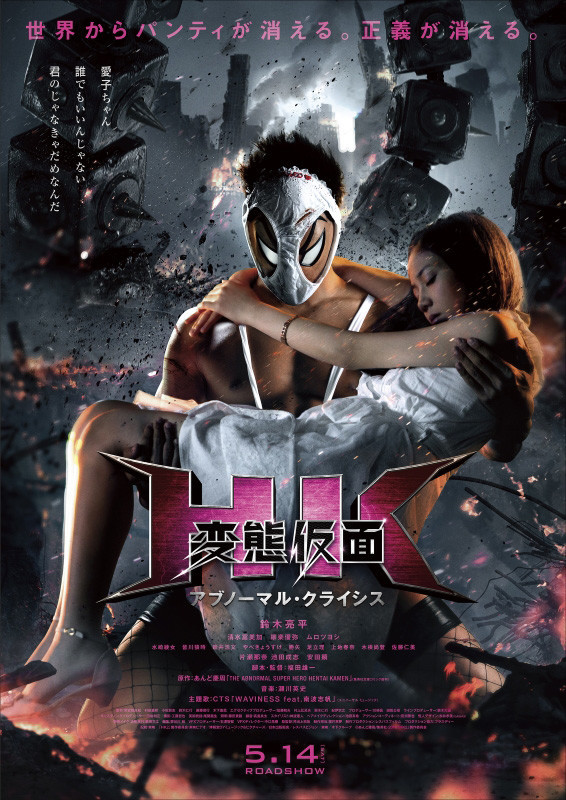 Electronic pop group CTS also released a collaboration visual featuring the main characters Hentai Kamen (Ryohei Suzuki) and Aiko Himeno (Fumika Shimizu).

The film opens in Japan on May 14. The film series had been planned as a trilogy since the first film's release in 2013.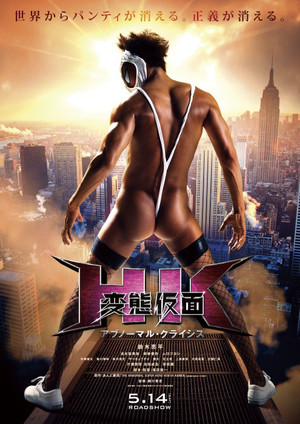 Director Yūichi Fukuda will return to direct the film, and Ryohei Suzuki and Fumika Shimizu are returning to reprise their roles as Kyōsuke Shikijō/Hentai Kamen and Aiko Himeno, respectively. New cast members include Yuuya Yagira in the role of Tadashi Kotomi, as well as Ayame Misaki, Sarutoki Minagawa, Hirofumi Arai, and Kyosuke Yabe in as-yet unannounced roles.
Suzuki stated that he is undergoing bodybuilding to increase his body profile. He stated, "My body will be larger than the previous movie. I'm aiming for a world-class body that can stand comfortably next to American superheroes."
The film's plot will center around the continued disappearance of panties all over the world. While Kyōsuke is now in college, and has taken a different path from Aiko, both stand up to face evil.
The first live-action film adaptation of Keishuu Andou's The Abnormal Super Hero Hentai Kamen manga opened in 2013. The film earned 100 million in its second weekend, far above the projected gross for the movie.
Source: Comic Natalie
---