News

Pokémon GO App Details, Screenshots Unveiled

posted on by Karen Ressler
Players can hatch Pokémon Eggs, set up Gym battles in upcoming smartphone game
---
The Pokémon Company International and Niantic Labs revealed more information about the upcoming smartphone app game Pokémon GO on Thursday. Niantic Labs also posted new screenshots of the game.

Players will use the app to be able to find Pokémon in the real world using location-based technology. Certain Pokémon are available only in certain areas: for example, water types will be found in lakes or oceans.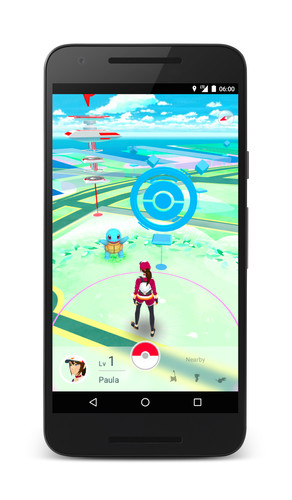 The smartphone can be set to vibrate when a Pokémon is nearby. Players can also find "PokéStops" and Pokémon Gyms at "interesting places, such as public art installations, historical markers, and monuments." At PokéStops players can acquire Poké Balls and other items. After the player explores enough, these PokéStops will offer Pokémon Eggs that will hatch after the player walks a certain number of steps.

Pokémon Gyms will be empty until players assign Pokémon to them. Each player can only assign one Pokémon to the Gym, and so must work with a team to defend the Gym. At a certain point in the game, players will be asked to join one of three teams.
Players can gain levels as a trainer to catch more powerful Pokémon and receive better items. Catching enough of one kind of Pokémon will allow the player to evolve that Pokémon. The game will also offer achievement medals.
Nintendo also hopes to let players pay attention to their surroundings instead of just looking at their screens by offering the "Pokémon Go Plus" wristband device. The device can also be used as a clip to be clipped onto suit jackets, etc. The "Pokémon Go Plus" device will have LED and vibration functions that will alert players to something happening in the game. The device uses Bluetooth technology to connect to players' smartphones. Players can still play the game without the device.
Niantic Labs and The Pokémon Company revealed the augmented reality smartphone app last September. Niantic has raised US$20 million from The Pokémon Company, Nintendo, and Google for the game, and the three investors will give Niantic another US$10 million upon meeting unspecified performance goals.
Pokémon GO will be available in 2016 for Android phones and iPhones. Field testing will begin in Japan this month.
---