News

Crunchyroll to Stream Joker Game, Kagewani -II- Anime

posted on by Karen Ressler
Both series to premiere in April
---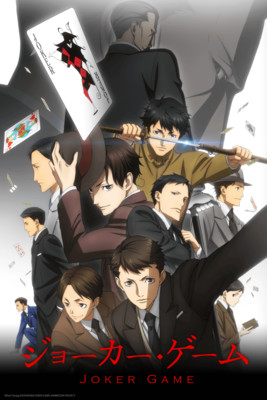 Media distribution service Crunchyroll announced at Seattle's Sakura-Con on Saturday that it will simulcast the television anime of Kōji Yanagi's spy mystery novel Joker Game and the second season of the monster suspense anime Kagewani.
Joker Game will premiere streaming worldwide outside of Asia on April 5 at 1:00 p.m. EDT.
Crunchyroll describes Joker Game:
In autumn of 1937, as the coals of World War II are beginning to smolder, Lieutenant Colonel Yuuki of the Imperial Army secretly establishes a spy training organization called the "D Agency." Those chosen as members of the agency, in opposition to the national trend toward reverence of native-born soldiers in the army, are civilian university graduates who pass the superhuman selection test with flying colors. Under the resourceful Lieutenant Colonel Yuuki, they learn not only how to work with gunpowder, wireless communications, vehicles, and airplanes, but also various skills essential for spies, from pickpocketing to safecracking.

"Don't die. Don't kill."

Suicide and murder are the worst possible options in the D Agency, which values a low profile above all else. Even as its agents bear under extreme opposition from the army's control center, they continue to betray allies, deceive foes, and conduct secret maneuvers all over the world. Tokyo, Shanghai, London... Their military intelligence reaches every last corner of the globe.
Kazuya Nomura (Ghost in the Shell: New Movie, Robotics;Notes) is helming the project at Production I.G. Toshiyuki Yahagi (Guilty Crown) is serving as chief animation director and is adapting Shirow Miwa's (Dogs: Bullets & Carnage) original character designs. Taku Kishimoto (Haikyu!!, ERASED) is helming series composition and writing the scripts. Kenji Kawai (Ghost in the Shell, Barakamon) is scoring the music.

Kagewani -II- (Kagewani: Shō) will premiere worldwide outside of Asia on April 1.
Crunchyroll describes the series:
A continuation of the first KAGEWANI, the plot centers on mysterious monsters called "UMA" that suddenly appear and start attacking humans. Scientist Sosuke Banba pursues the truth with the keyword "kagewani", which means "Shadow Crocodile" in Japanese.
Crunchyroll streamed the first season of anime shorts when it premiered last October.
---
How excited are you for
Joker Game ?

Can't wait!
I'll give it a shot
Not for me

---
How excited are you for
Kagewani -II- ?

Can't wait!
I'll give it a shot
Not for me

---