News

Hai-Furi TV Anime's 2nd TV Ad Previews Luna Haruna's Theme Song

posted on by Crystalyn Hodgkins
---
Aniplex began streaming a second commercial on Saturday for the Hai-Furi television anime series (the linked video is region-locked to Japan). The ad previews Luna Haruna's ending theme song "Ripple Effect."
Aniplex of America will begin streaming the series on April 9, although the company has not yet revealed which streaming services it will use. The company describes the series as follows:
Living by the sea, protecting the sea, and journeying across the sea...They're the BLUE MERMAIDS! Because of a shift in tectonic plates around 100 years ago, Japan lost much of its area to submergence. To preserve Japan's territories, Coastal Cities sprung up, one after the other. Eventually, they became Marine Cities, and along with the expansion of sea-lanes to connect them, the need arose for a sizable staff to protect the seas. At the same time, maritime jobs were becoming more popular among women. Hence, the BLUE MERMAIDS, tasked with keeping the seas safe, had become every female student's dream job. This is when childhood friends Akeno Misaki and Moeka China enroll in a marine high school in Yokosuka, along with other girls who share their goal of "BECOMING A BLUE MERMAID."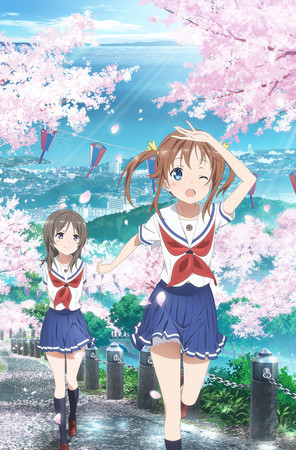 Yuu Nobuta (Code Geass: Lelouch of the Rebellion R2, Blade & Soul episode director) is directing the series at Production IMS. Reiko Yoshida (Non Non Biyori, K-ON!, Yowamushi Pedal) is handling series composition, and Atto (Non Non Biyori) is drawing more than 30 original character designs for the series. Naoto Nakamura (A Certain Scientific Railgun, Haganai) is serving as the character designer and chief animation director. Takaaki Suzuki (Girls und Panzer, Strike Witches, Upotte!! military history adviser) is credited with the original work for the series. Graphinica is credited for the show's CG graphics, photography, and editing.
The anime will star:
Shiina Natsukawa as the heroine Akeno Misaki (nickname: Mike-chan)
Lynn as Mashiro Munetani (nickname: Shiro-chan)
Sora Amamiya as Moeka China (nickname: Moka-chan)
Nozomi Furuki as Tateishi Shima (nickname: Tama-chan)
Atsumi Tanezaki as Mei Irizaki (nickname: Mei-chan)
Miharu Sawada as Hikari Ogasawara (nickname: Hikari-chan)
Hitomi Kikuchi as Michiru Takeda (nickname: Micchan)
Minami Tanaka as Junko Heki (nickname: Jun-chan)
Yuka Maruyama as Ritsuko Matsunaga (nickname: Ricchan)
Rui Tanabe as Kayoko Himeji (nickname: Kayo-chan)
Sakura Nakamura as Kaede Marikōji (nickname: Marikōji-san)
Yurika Kubo as Rin Shiretoko (nickname: Rin-chan)
Chisato Satsuki as Satoko Katsuta (nickname: Sato-chan)
Yō Taichi as Hideko Yamashita (nickname: Shū-chan)
Emi Miyajima as Mayumi Uchida (nickname: Mayu-chan)
Nanami Yamashita as Tsugumi Yagi (nickname: Tsugu-chan)
Akane Fujita as Megumi Uda (nickname: Megu-chan)
Yu Kobayashi as Machiko Noma (nickname: Macchi)
Yūko Kurose as Kouko Nosa (nickname: Koko-chan)
Airi Ootsu as Mimi Toumatsu (nickname: Mimi-chan)
Momo Asakura as Mikan Irako (nickname: Mikan-chan)
Kanae Itō as Homare Kinesaki (nickname: Hocchan)
Kanae Itō as Akane Kinesaki (nickname: Acchan)
Kana Asumi as Minami Kaburagi (nickname: Minami-san)
Natsumi Takamori as Maron Yanagiwara (nickname: Maron-chan)
Natsuki Aikawa as Hiromi Kuroki (nickname: Kuro-chan)
Ayaka Shimizu as Reo Wakasa (nickname: Reo-chan)
Aniplex of America has listed the English profile and original character designs for most of the above characters. The Japanese website is revealing a new voice cast member every day this month.
Voice actress group TrySail is performing the opening theme song "High Free Spirits." The series will premiere in Japan on April 9 at midnight on BS11 and Tokyo MX.
Thanks to Kagayaki and Dennis R for the embedded videos.
---