News

Digital Manga Launches Kickstarter For Kimagure Orange Road Manga

posted on by Crystalyn Hodgkins
Company plans to release 1984-87 romantic comedy series in 6 omnibus volumes
---

Digital Manga Inc. launched a Kickstarter campaign on Thursday to publish Izumi Matsumoto's Kimagure Orange Road romantic comedy manga in 3-in-1 omnibus form. Digital Manga Inc. plans to re-translate, re-edit, and re-letter the series.
Digital Manga Inc.'s initial goal of US$34,900 will be to publish the first omnibus volume, and the other five omnibus volumes will be stretch goals at the following amounts:
Omnibus volume 2: US$56,900
Omnibus volume 3: US$74,900
Omnibus volume 4: US$89,900
Omnibus volume 5: US$105,900
Omnibus volume 6: US$119,900
The campaign will end on May 10 at 6:00 p.m. EDT. As of press time the campaign has raised US$13,719.
Backer tiers range from US$1 to US$1,500, and rewards include: digital or print editions of the manga, bookmarker magnets, a pub glass, USB drives, beach towels, sunglasses, eco bags, wall scrolls, signed soundtrack CDs, stickers, reproduction prints, reproduction shikishi boards, posters, and an artbook.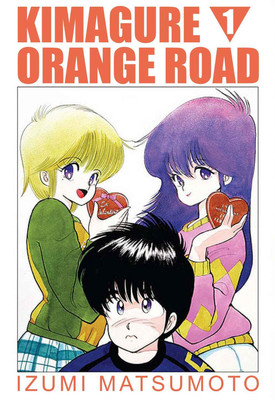 The original Kimagure Orange Road manga series ran in Shueisha's Weekly Shonen Jump magazine from 1984 to 1987. The 18-volume story followed a boy with supernatural powers as he dealt with a love triangle between two girls in his high school.
The manga inspired a popular 1987-1988 television anime series, two movies, and various anime videos. AnimEigo released the television anime series, the first movie, and the later video anime series, while ADV Films handled the second movie, Kimagure Orange Road: Summer's Beginning.
Matsumoto announced in 2012 that the company Hivelinx would distribute the series in English for NTT Solmare's Facebook app "ComicFriends," as well as for Kindle and Apple iBooks. The manga's first volume then arrived on Kindle in 2013. Digital Manga Inc. then listed plans to publish the manga on its eManga website in 2014, and announced later that year that it planned to release new volumes digitally on a weekly basis.
Thanks to Daniel Zelter, Rukiia, Chris Miller, and Alan45 for the news tips.
---