News

Omukae Desu Live-Action TV Series Reveals More Cast, Promo Video

posted on by Kyle Hallmark
---
The staff of the live-action television adaptation of Meca Tanaka's Omukae desu. manga revealed on March 18 that Ryohei Suzuki (pictured below) will star as the bunny suit-wearing god of death Nabeshima.

The official website for the show also began streaming a 30-second trailer for the series on March 26.
The drama will premiere on NTV on April 16, and it will air every Saturday at 9:00 p.m.
The drama will also star Sōta Fukushi as Madoka Tsutsumi and Tao Tsuchiya as Sachi Aguma. Other cast members include Mugi Kadowaki as Chisato Ogawa and Kokone Hamada as Yuzuko.
Seiichi Nagumo (35-sai no Kōkōsei) and Renpei Tsukamoto (Asuko March!) are directing the series, and Masaya Ozaki is writing the scripts. Leo Ieiri is performing the theme song "Boku-tachi no Mirai" (Our Future).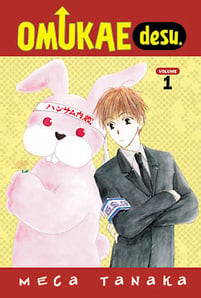 The original manga ran in LaLa from 1999 to 2002. Hakusensha published the series in five compiled volumes, which CMX Manga published in English. CMX Manga describes the story:
Madoka is a high school student who is recruited by Nabeshima (the guy in the bunny suit) to work for the GSG (Gokuraku So Gei: a transportation service to heaven). Nabeshima is just way too busy, and since Modoka seems to have the power to see lost souls, he's recruited to help lighten the workload. But many of the dead are reluctant to leave this world, feeling they have not accomplished all that they should have in their lives.
Madoka must assist the deceased in performing tasks that will help them finally feel closure and make them willing to leave everything behind for good.
Hakusensha's LaLa magazine began serializing a sequel series about Madoka and Nabeshima in its April issue on February 24.
Source: Comic Natalie
---