News

Kazuhiro Yamaji Guest Stars as Gild Tesoro in One Piece Film Gold

posted on by Crystalyn Hodgkins
---

This year's 18th issue of Shueisha's Weekly Shonen Jump magazine revealed on Monday that actor and voice actor Kazuhiro Yamaji (Kamen Rider Blade's Kei Karasuma, Psycho-Pass' Jouji Saiga, One Piece's Senor Pink) will guest star in the One Piece Film Gold anime movie as the main antagonist Gild Tesoro (pictured far left in image at right). Gild Tesoro a casino king who controls the huge golden ship Gran Tesoro. He is a devil fruit user who ate the "Gol Gol fruit." He is an extremely rich man who is said to possess 20% of the monetary "Beli" that exist in the world.
The issue is also revealing that Mayumi Kojima will perform an insert song that will appear in the film's opening sequence. Kojima previously performed the opening theme song for Ghost Hound.
The film's official website had revealed several other guest cast members on Tuesday:
Hikari Mitsushima as Carina, a popular and mysterious songstress in Gild Tesoro's crew, with ties to Nami's past.


Gaku Hamada as Mr. Tanaka, a devil fruit user who ate the "nuke nuke" fruit. With his secretive devil fruit powers he is in charge of Gran Tesoro's internal security.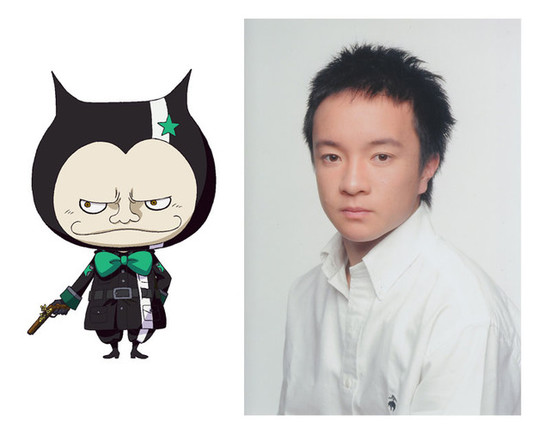 Nanao as Baccarat, a devil fruit user who ate the "lucky lucky" fruit. When she touches someone, their luck changes. She is a mysterious and elegant woman who acts as an escort for the Straw Hat pirates. She is Gran Tesoro's concierge who attends to VIPs visiting the area.


Kinya Kitaōji as Reizu Max, a famous gambler who is actually a key figure in the Revolutionary Army.


The website previously streamed a second teaser trailer for the film earlier this month.

Original manga creator Eiichiro Oda is serving as the film's executive producer as well as being credited with the original work. Oda also served as the executive producer for the previous film in the franchise, One Piece Film Z. Additionally, Oda also designed the various new costumes for the Straw Hat crew for the film, drew the rough drafts for the new characters, and also drew the film's first visual (pictured at left).
Hiroaki Miyamoto (One Piece episodes 352-679, assistant director for One Piece: Baron Omatsuri and the Secret Island) is directing the film, and Tsutomu Kuroiwa (live-action Black Butler film, live-action Liar Game: The Final Stage film, live-action The Perfect Insider TV series) is writing the script. Masayuki Sato designed the characters for animation, and is also serving as chief animation director. Kazuo Ogura is the art director, while Nobuhito Sue is credited for art setting.
Ticket pre-orders for the film began in December. Those who pre-order tickets for the film starting on March 19 will get a calendar featuring Oda's designs for the film. The calendar is limited to 50,000 units.
One Piece Film Gold will open in Japan on July 23.
---