News

The Empire of Corpses Film's English Video Introduces John Watson

posted on by Kyle Hallmark
Film will run in select theaters in the U.S. on April 19-20
---
FUNimation Entertainment began streaming a video on Thursday for its upcoming screening of The Empire of Corpses anime film. The video introduces the film's protagonist John Watson.
Funimation previously streamed a trailer on Wednesday that previewed the film's English dub.
The cast, under ADR Director and scriptwriter Mike McFarland, assistant ADR scriptwriter J. Michael Tatum, ADR engineer Peter Hawkinson, English dialect adviser Kit Buss, and Russian dialect adviser Lauren Conn, includes:
Funimation will screen the film "in select theaters" on April 19 and 20. The film adapts the zombie steampunk novel of the same name by the acclaimed late author Project Itoh.
Funimation describes the story:
From the studio that produced Attack on Titan comes a captivating historical action thriller based on an award-winning novel by Project Itoh. In an alternate version of 19th century London, the world has been revolutionized by "corpse reanimation technology" creating armies of undead who serve the living as laborers across the globe.

In an attempt to revive his dearly departed friend, young medical student John Watson becomes obsessed with replicating the work of Dr. Victor Frankenstein—the legendary corpse engineer whose research produced the only re-animated corpse to possess a soul. But when his illegal experiments put him at odds with the British government, Watson is drafted into a worldwide race to find the lost research notes of Victor Frankenstein before the secrets of the human soul fall into the wrong hands.
The film's Japanese cast stars: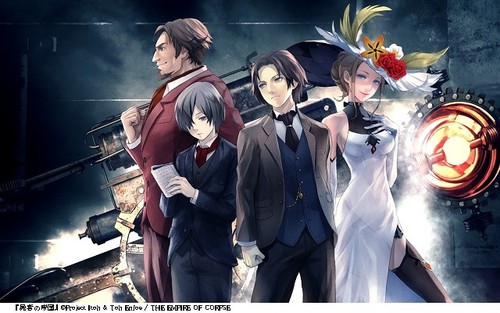 The Empire of Corpses opened in theaters in Japan last October. Funimation will release the film and two more films based on Project Itoh novels — Harmony and Genocidal Organ — in North America. However, Genocidal Organ has been delayed as its animation production shifted from the bankrupt Manglobe studio to the new Geno Studio.
Each novel film adaptation is from a different director and studio. Shukou Murase (Witch Hunter Robin, Gangsta., Ergo Proxy) is directing Genocidal Organ at formerly Manglobe (The Unlimited - Hyōbu Kyōsuke, House of Five Leaves) and now at Geno Studio, Takashi Nakamura (Fantastic Children) and Michael Arias (Tekkonkinkreet) directed Harmony at Studio 4°C (Berserk: The Golden Age Arc I - The Egg of the King, Tweeny Witches), and Ryoutarou Makihara directed The Empire of Corpses at WIT STUDIO (Attack on Titan, Hōzuki no Reitetsu). EGOIST (Psycho-Pass, Guilty Crown) performed theme songs for all three films.
---