News

Tales of Berseria RPG's Video Reveals August 18 Date, Bonus Extras

posted on by Rafael Antonio Pineda
"BURN" theme song by
FLOW
previewed in 3-minute video
---
The official website of Bandai Namco Entertainment's Tales of Berseria role-playing game began streaming a long version of the game's third promotional video on Wednesday. The new three-minute version of the video reveals the game's August 18 release date. Like the previous shorter version, the new version also previews the game's theme song "BURN" by FLOW.
Man: Since opening of the gates ten years ago, our kingdom has been in danger of complete destruction.
Text: Production - Bandai Namco Entertainment
Man: However! In this land where the heart was almost dead, there was someone who stood up, the sword of miracles in their hand! That man is Altorius Colbrand!
Velvet: Altorius!!
Velvet: The only thing my heart frozen over by despair feels is the taste of flesh covered in blood and my hatred for that man.
Text: This is a story of emotions and principle.
Text: Her journey begins in the depths of a dark prison cell...
Woman: Are you satisfied with not knowing? Not knowing what it was you saw on that night...
Velvet: Where is that man?
Woman: I shall tell you once we escape safely.
Velvet: Escape... huh. You have yourself a deal.
Text: There's a flame in this heart that cannot be extinguished, even if I wanted it to.
Laphicet: Kill Mr. Altorius...
Velvet: You all can run away, too, you know.
Rokurou: I can't do that. If you die, I wouldn't be able to repay my debt of gratitude to you.
Magilou: What is going on with you all? Doing all this and waking me up...
Eizen: I don't have enough manpower. Lend me your strength.
Mage: I won't let you get away! You're the only one I can't let get away!
Eleanore: I want to know the truth about what is going on in this world.
Laphicet: I...
Satou: He's intending to self-destruct!
Rokurou: What should we do? Bring him along?
Laphicet: I'm the one who decided to go with you.
Velvet: Listen up! We're going to leave this island... All of us!
Woman: You are sin itself...
Velvet: I threw it away ages ago.
Eizen: Even if you stop here, I will fight with the spirits.
Velvet: I'm not falling back!
Magilou: Do your best to not break.
Velvet: Laphicet!
Eleanore: It can't go back to the way it was...
Eizen: It's fine to agonize. It's proof that you're alive.
Text: So you can live, being true to yourself...
Text: And so that I can live true to myself...
Velvet: This is the way I live!!

The video and website outlines the items included in the game's first-print limited edition and digital download editions. The first-print limited edition will include a serial code for "Special Dramatic Chat ~Melon Gumi-hen~," (Melon Gel Chapter) a special chat video between the cast members of the game.


The digital download edition of the game (both the PS3 and PS4 version) will include a special theme illustration by ufotable.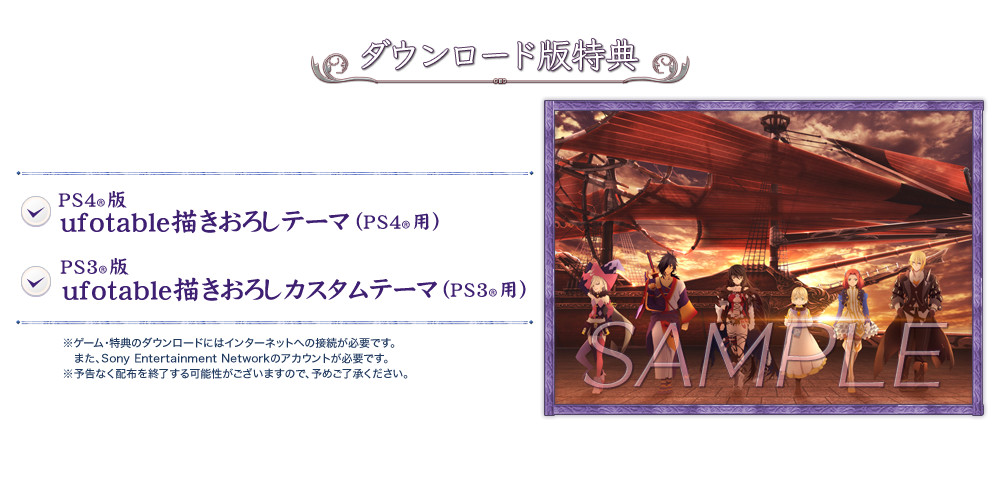 The game's cast so far includes:
Rina Satou as Velvet Crowe
Designed by: Mutsumi Inomata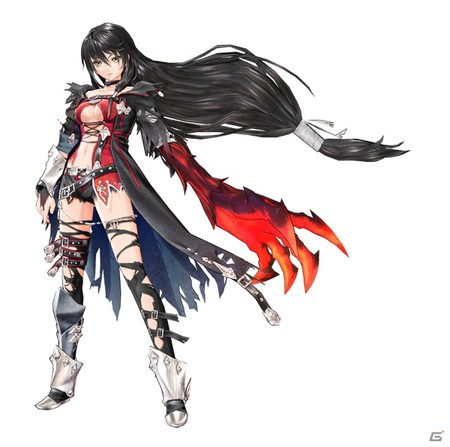 Azumi Asakura as Laphicet
Designed by: Minoru Iwamoto


Daisuke Kishio as Rokuro
Designed by: Daigo Okumura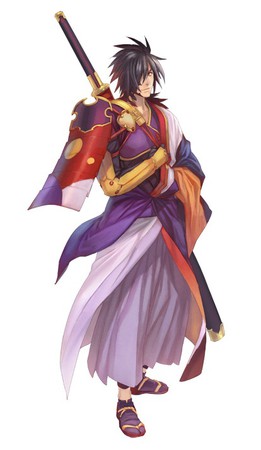 Ami Koshimizu as Eleanor
Designed by: Kousuke Fujishima


Satomi Satou as Magilou
Designed by: Daigo Okumura


Naomi Nagasawa as Bienfu


In addition, Toshiyuki Morikawa will voice a character named Eizen. The character is described as a pirate and rival, and called the God of Death. He is the first mate of the Aifried pirate gang, and works together with Velvet to fight their common enemy, the Exorcists. Minoru Iwamoto designed the character.
Bandai Namco Entertainment will ship the game for PlayStation 4 and PlayStation 3 in Japan this year, and the company will release the game for PlayStation 4 and PC in North America and Europe. Bandai Namco Entertainment has not yet announced a release window for the West.
---