News

Danganronpa 3 Anime Casts Hidekatsu Shibata, Keiji Fujiwara

posted on by Rafael Antonio Pineda
---
The official website of the Danganronpa 3: The End of Kibōgamine Gakuen (Danganronpa 3 -The End of Hope's Peak Academy-) anime revealed additional cast members for both its "Mirai Hen" and "Zetsubō Hen" parts on Thursday.
The new cast members appearing in the "Mirai Hen" part of the anime include:
Hidekatsu Shibata as Kazuo Tengan


Keiji Fujiwara as Kōichi Kizakura


The newly-announced cast for the Danganronpa 2-based "Zetsubō Hen" part includes Romi Park as Akane Owari, Hiroki Yasumoto as Nekomaru Nidai, and Jun Fukuyama as Teruteru Hanamura. All three reprise their roles from the Danganronpa 2: Goodbye Despair game.
The website will reveal more cast members on Friday.
Previously announced cast members for "Mirai Hen" include:
Megumi Ogata as Makoto Naegi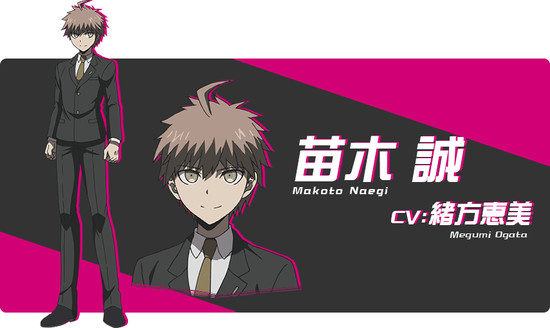 Yōko Hikasa as Kyōko Kirigiri


Saki Fujita as Seiko Kimura


Inori Minase as Ruruka Andō


Takuya Eguchi as Sōnosuke Izayoi


Ogata and Hikasa are reprising their roles from the first Danganronpa game and anime.
Previously announced cast members for "Zetsubō Hen" include: Yoshimasa Hosoya as Kazuichi Sōda, Megumi Ogata as Nagito Komaeda, Ami Koshimizu as Ibuki Mioda, Ai Kayano as Mikan Tsumiki, Yu Kobayashi as Mahiru Koizumi, and Suzuko Mimori as Hiyoko Saionji.
TARAKO will replace Nobuyo Oyama in the role of mascot character Monokuma in the upcoming television anime and other installments in the franchise.
The characters in the anime's "Mirai Hen" part include:

(From left to right)
Kōichi Kizakura
Seiko Kimura
Great Gozu
Sōnosuke Izayoi
Ruruka Andō
Jūzō Sakakura
Ryōta Mitarai
Monokuma
Miaya Gekkōgahara
Kyōsuke Munakata
Kazuo Tengan
Monomi
Chisa Yukizome
Yasuhiro Hagakure
Makoto Naegi Kyōko Kirigi
Daisaku Bandai
Aoi Asahina

The upcoming anime series will be split into two parts: "Mirai Hen" (Future Chapter) and "Zetsubō Hen" (Despair Chapter). "Mirai Hen" will air in July, while "Zetsubō Hen" will air sometime after. "Mirai Hen" will focus on the characters from the first game installment, while the "Zetsubō Hen" will tell the story of the characters of the Super Danganronpa 2 game. The anime will illustrate what happened to the characters before the events of the game.
The television anime series will be the conclusion of the "Hope's Peak Academy" series' original story.
Kazutaka Kodaka is in charge of the original scenario concepts and overall supervision. Rui Komatsuzaki is credited with the original character designs, and Seiji Kishi is directing. Norimitsu Kaihō (School-Live!, Gunslinger Stratos: The Animation) is in charge of the scenario on the project, and animation studio Lerche is returning to animate the project. Kazuaki Morita and Ryoko Amisaki are designing the anime's characters. The Danganronpa Design Team is credited with the original background designs. Masafumi Takada is composing the music, and Yoshinori Terasawa is the "Otasuke Producer."
Thanks to Maddy Mayberry for the news tip
---