News

Naruto Stage Musical's Visual Shows Main Cast in Costume

posted on

2016-04-24

23:45 EDT
Character visuals show Yūgo Satō as Rock Lee;
FLOW
's "Hikari Oikakete" image song confirmed
---
The official website of the Live Spectacle Naruto stage musical unveiled a new visual on Monday featuring the play's characters in costume.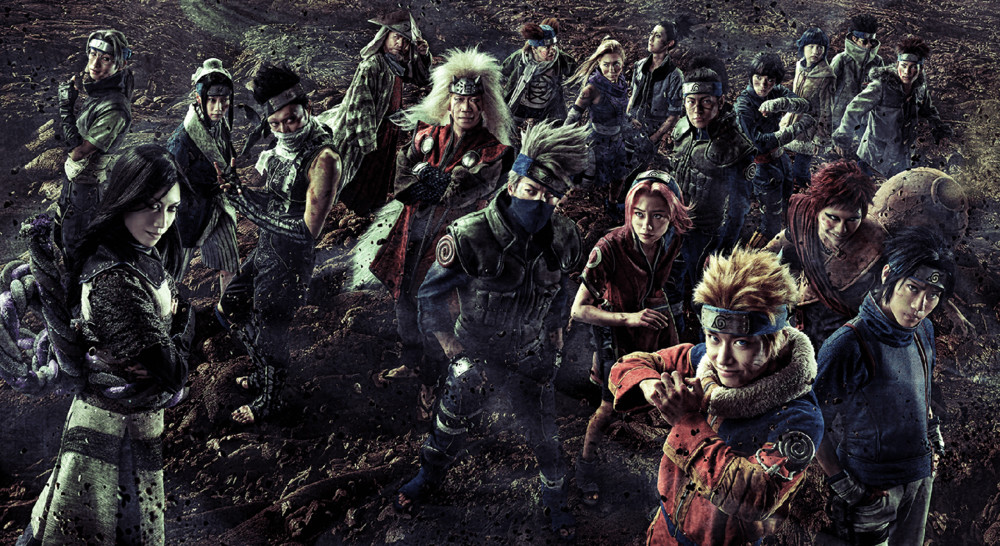 The site also revealed visuals for the new characters, including Yūgo Satō in costume as Rock Lee, who is new to this run of the play, as well as Kaoru Fujiki and Tatsuya Kobayashi, who are different from the cast of the first run of the musical.
Yūgo Satō as Rock Lee


Kaoru Fujiki as Ino Yamanaka


Tatsuya Kobayashi as Shikamaru Nara


Ryō Katō as Chōji Akimichi


Yūta Iiyama as Kiba Inuzuka


Shinichirō Ueda as Shino Aburame


Saki Takahashi as Hinata Hyūga


The site confirmed on Sunday that FLOW's "Hikari Oikakete" song will return as an image song for this run of the musical. The song was first used in the musical's first run.
Previously revealed character visuals include:
Kōdai Matsuoka as Naruto Uzumaki


Ryūji Satō as Sasuke Uchiha


Yui Itō as Sakura Haruno


Kenta Suga as Gaara


Yūki Kimisawa as Kakashi Hatake


Hidekazu Ichinose as Iruka Umino


Asahi Uchida as Zabuza Momochi


Kazuhiro Hirakawa as The Third Hokage


Tatsunari Kimura as Kabuto Yakushi


Miho Imamura as Haku


Yoshiaki Umegaki as Jiraya


Hiro Yūmi as Orochimaru


Additionally Shigeki Yamada will play Orochimaru's Incarnation.
The musical covers the manga's story from the first to 27th volume. The production includes drama, songs, dance, and acrobatics.

The musical will run from July 30 to August 7 at the Umeda Arts Theater in Osaka, and from August 13-28 at the AiiA 2.5 Theater Tokyo. Akiko Kodama (Fairy Tail stage play) will again direct and write the play.
General ticket sales for the new run will start on May 29.
The musical held performances last year from March to May in Tokyo, Fukuoka, Osaka, and Miyagi. The musical then held international performances in Macau, Malaysia, and Singapore. A DVD of the stage musical went on sale last August.
The musical is part of the ongoing "Naruto Shin Jidai Kaimaku Project" (Naruto's New Era Opening Project) marking the 15th anniversary of Masashi Kishimoto's original manga. The manga ended in November 2014.
Source: Comic Natalie
---