News

Love Live! Sunshine!! Anime's New Video, Visual, Staff Unveiled

posted on by Rafael Antonio Pineda
Anime about new school idol group premieres in summer
---
The official website of the Love Live! Sunshine!! television anime began streaming a promotional video for the anime on Wednesday. The video introduces the nine main characters that form the group Aqours.
The anime premieres this summer.
The site also unveiled a new visual for the anime, new visuals for the characters, and additional staff members.

The anime's main staff includes:
The project's characters (along with their new visuals) and cast include: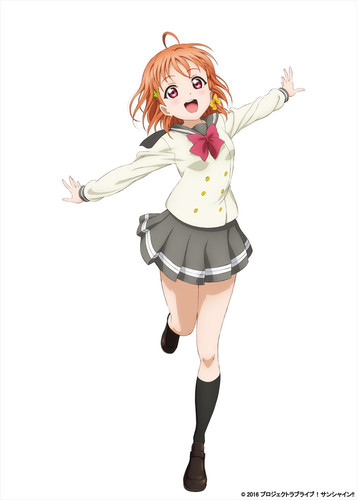 Anju Inami as Chika Takami: Youngest of three sisters, a fan of μ's, and the leader of her school idol unit. Her family runs an inn, which boasts an open air bath with a view of the sea. A second year student.


Rikako Aida as Riko Sakurauchi: A second year who originally lived in Akihabara, Tokyo, but transferred to Uchiura. A plain girl, with a withdrawn personality. Good at art, and prefers the indoors. She became a school idol due to Chika's influence.


Nanaka Suwa as Kanan Matsuura: A third year who lives with and runs a diving store with her grandfather on a nearby island. She is childhood friends with Chika, and became a school idol to help her with her plans.


Arisa Komiya as Dia Kurosawa: A third-year girl hailing from a well-known local clan. Became student council president as a matter of course. Prideful and cool. In her profile, she mentions that Chika will regret putting her in her team, as she is not the kind of person who accepts defeat. The word Dia means "diamond" in the Japanese language.


Shuka Saitō as Yō Watanabe: A second-year student and high diver skilled enough to be on the national team. Likes business attire. Dreams of captaining her own ferry.


Aika Kobayashi as Yoshiko Tsushima: A first-year student who consistently has bad luck, so she thinks of herself as a demon, although she is very proud of this fact. A first-year student born in Numazu City. Hates mikan (citrus unshiu, a variation of orange.) She insists on being called "Johanne" instead of her real name, Yoshiko.


Kanako Takatsuki as Hanamaru Kunikida: A first-year student and daughter of a family that has taken care of a local shrine for generations. Good at singing, and a member of a local choir. Loves to read, and gets dizzy easily.


Aina Suzuki as Mari Ohara: A half-Japanese third-year girl whose Italy-based French father manages a chain of Italian-style hotels. She has a bright personality and moves at her own pace.


Ai Furihata as Ruby Kurosawa: A first year who's prone to crying, and has a phobia of men. Dia's younger sister. Sewing is her sole forte.

The Love Live! Sunshine!! project was first announced in February 2015 with a teaser image. The project's three key phrases are "Reader Participation," "Inspired by μ's," and "Seaside Town Setting." The group's name was chosen by fans by popular vote after Dengeki G's Magazine readers submitted possible names. After readers and fans cast 23,789 votes between June 1-11 last year, Aqours won with 4,644 votes.

In 2010, the anime studio Sunrise, Lantis, and ASCII Media Works' Dengeki G's Magazine launched the first Love Live! project as a self-described "ultimate user-participation project" that lets its fans vote on the future of the fictional idols. A series of music CDs and animated music videos then followed. The members of the first project announced in 2012 that a full anime series had been green-lit for the following year. The second season of the anime was announced in June 2013.
Crunchyroll streamed both seasons as they aired in Japan. NIS America announced in April that it will release the first and second seasons of the anime with an English dub.
The Love Live! The School Idol Movie film opened in Japan last June, and in theaters outside Japan starting last August. The film has earned a total of 2.86 billion yen (about US$25.1 million). The film played in select cities in the United States last September, and also screened in Australia, New Zealand, Taiwan, Hong Kong, Korea, Thailand, Malaysia, the Philippines, Singapore, Vietnam, Brunei, and Indonesia.

Love Live!'s first idols, μ's, sold their "final single" on March 2, and they held their "μ's Final Love Live!" concerts on March 31 and April 1. However, the group members denied that they are breaking up.
Source: Anime! Anime!
---