News

Live-Action Shimauma Film's Web-Exclusive Trailer Shows More Graphic Scenes

posted on by Rafael Antonio Pineda
Film based on
Fumio Obata
manga about con artist who crosses yakuza opens on May 21
---
Japanese film news website Cinema Today began streaming a trailer on Thursday for the live-action film adaptation of Fumio Obata's Shimauma manga. The trailer is a web-exclusive version of an earlier trailer with added scenes of graphic violence.
Note: The below video may not be safe for work.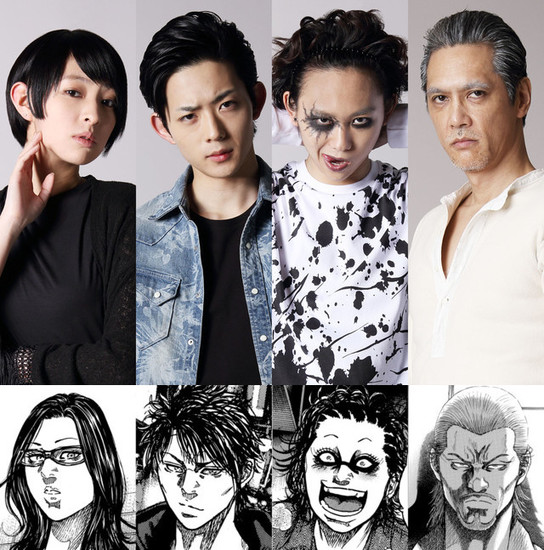 The film's main cast includes (photos above, from left to right):
Kyoko Hinami as Kiinu
Ryō Ryūsei as Tatsuo "Dora" Kurakami
Kenta Suga as Aka
Masaya Kato as Shimauma

The additional cast includes (photos above, from left to right):
Seiji Fukushi as Kōji Amikawa
Maryjun Takahashi as Aya
Kenji Matsuda as Kitajima
Maiko Amano as Sanae Amikawa
Tomohiro Waki as Yoshida
The film will open in Japan on May 21. Hajime Hashimoto is directing the film, with Izumi Takahashi penning the script.
Shimauma centers on Tatsuo, who makes money by running a badger game extortion racket with three other friends, until one day they unwittingly target a member of the yakuza. Tatsuo eventually gets a text with an attached picture of his friend Hide's messed up face and two ribs pulled out of him. Now Tatsuo is about to enter an even darker world than the one of "slaves and cattle" that he had inhabited. Obata launched the manga in Shonengahosha's Young King magazine in 2010, and Shonengahosha published the manga's 13th compiled book volume on April 25.
---