×
remind me tomorrow
remind me next week
never remind me
Subscribe to the ANN Newsletter • Wake up every Sunday to a curated list of ANN's most interesting posts of the week.
read more
News

Gainax, Livedoor Co-Founders Launch Crowdfunding Campaign for 'Rocket-Dan' Anime Short

posted on by Rafael Antonio Pineda
Campaign already raised 1.5 million yen to make sci-fi short
---
Gainax co-founder Toshio Okada and Livedoor founder and former president Takafumi Horie launched a crowdfunding campaign on the Campfire website last Friday. The campaign is seeking funds for the production of a three to ten-minute short anime tentatively titled "Rocket-Dan" (Rocket Man). The anime is part of Okada and Horie's "Minna no Anime Project" (Everyone's Anime Project).
The campaign sought to raise 1.5 million yen (about US$13,770) to fund the creation of the short. As of press time, the campaign has been funded, and has currently raised 2,657,000 yen (about US$24,357). The campaign will end in 63 days.
The campaign includes a preview video for the anime.
The short anime is set in a certain galaxy on an unspecified planet experiencing a golden age. Mobile networks reach any place in the planet, and portable computers are worn like glasses. Wireless charging can be performed anywhere, and all commerce occurs with digital cryptocurrency. But space travel technology has not developed in the past 50 years. A certain republic once attempted to make a spaceship, but a grave accident set the project back.
The main character is a billionaire who developed a hit mobile game, and now dreams of being the first astronaut that will go down in history. But he is betrayed by his company's financial officer, became the target of an audit, and then imprisoned. After being released, the only thing he has left was a new type of rocket he had been developing since before being imprisoned. This new rocket had state-of-the-art software, and was cheap to launch. The team who developed it were all from different walks of life, from ramen shop owners to media artists, but who had never given up their dreams of space. Their actions were followed by an attractive female college student who is a fan of rockets. She has shut-in tendencies and has joined a popular new religion.
Together, they developed a unique engine. The main character poured his income into its development, but results were not forthcoming. A rival company with plenty of funds and personnel managed to successfully launch a rocket. Shocked, the team doubled down on its efforts to create a rocket, but failed in the launch and were criticized by the media. But eventually, through crowdfunding, they come to the day where they will launch the first satellite developed without government funding.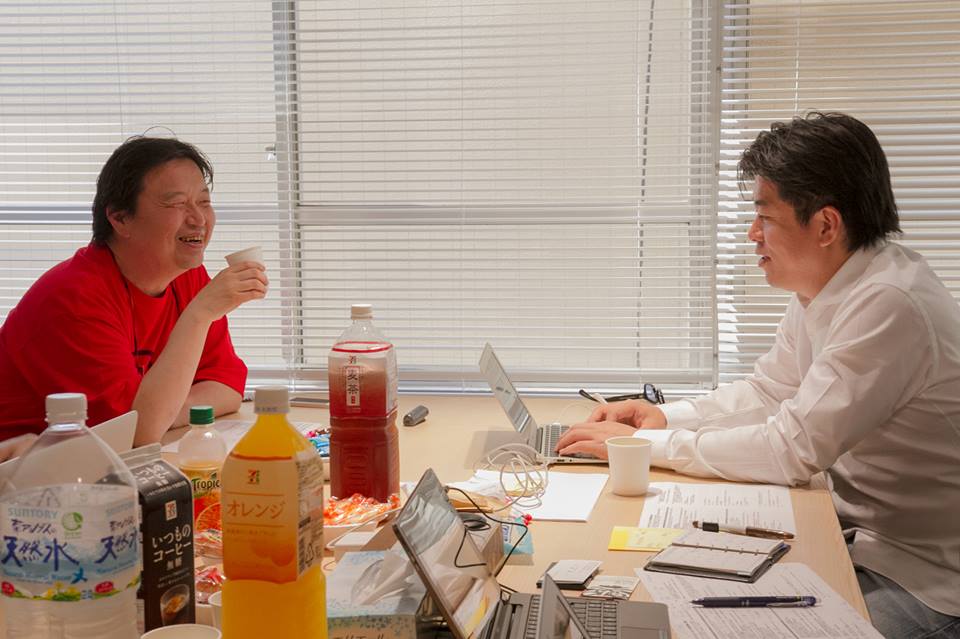 Takafumi Horie will serve as chief director on the project.
Backer tiers are available from 2,000 yen to 300,000 yen. Rewards include participation in voice acting and theme song auditions, as well as participation in auditions for the production team as a director, storyboard artist, animator, or character designer.
Okada and Horie launched their "Minna no Anime Project" in 2013, and sought image boards (conceptual drawings to guide an anime's aesthetic) from user submissions in the artist website pixiv.
Okada co-founded the anime studio Gainax and served as its first president. He left the studio and became an instructor at The University of Tokyo, Rikkyo University, Massachusetts Institute of Technology, and most recently, the Osaka University of Arts. Okada earned the nickname "Otaking" for his deep roots in the Japanese science-fiction and anime geek circles and for even lecturing on "Otaku culture" at the University of Tokyo. Vertical published his book Sayonara, Mr. Fatty: A Geek's Diet Memoir in North America.
Source: Ameba News
---