News

Trick or Alice Otome Game's Anime Previewed in Video

posted on by Egan Loo
Prime Time
's otome brand spinoff AnDerCen aims to release
OVA
this year
---
The official website for the original video anime of little cheese's Trick or Alice romance game began streaming an advance promotional video on Monday.
Alice: I... I've always...!
Cheshire: I heard, Black Rabbit.
Black Rabbit: Heard what?
Cheshire: That you stole a kiss from Alice. You can't do that. It'll make Alice returning her pointless. Just what do you plan to do with this world? With Alice?
Black Rabbit: That's...
Chrono: I've done it! I've obtained it! I finally, finally obtained it! As long as I have this, I...! I...!
Black Rabbit: If you so wish, I can erase this world.
Light: Jack escaped!?
Cheshire: So that's your answer...
Alice: Every day... Every every every single day! I'm sick of it!
Elisabeth: Alice! Your memories...!?
Black Rabbit: You have to stop, Alice!
Shadow: The Alice we've known up until now is going to go away!?
Chrono: Alice! Alice! I'll kill you, so come on out wherever you are!
Time: Hurry, Alice.
Round: Will you play with me again?
Black Rabbit & Text: Alice!
Alice: I'm sorry... Everyone...
AnDerCen, the otome (games and other works for female players) brand spinoff from the anime brand Prime Time, aims to release the anime this year.
The anime stars:
Hikaru Isshiki as Arisa Minase/Alice
Homare Kashiwagi as Nao Kurotani/Cheshire
Noriyuki as Elizabeth
Sandori as Ren Kisaragi/Round
Yajiumakonjō as Asagi Kamijo/Light and Toya Kamijo/Shadow
Kōtei as Shizuku Minase/Black Rabbit
Hōdenteigatsu as Tsukasa Tokitou/Chrono
Yasura Chatani as Time
Shuki Shishido is serving as director and scriptwriter and is also handling the composition. Hiyo is serving as the technical adviser, and Kotoe Nanaya designed the original characters. Lee Simin designed the characters for animation and is the animation director, and Kimiko Tamai is the general director. Toshiyuki Yamamoto is producing the series. The anime's theme song is titled "Dear Alice,".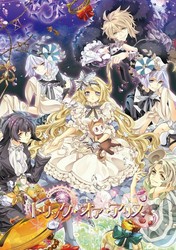 The story of the original game follows Arisa Minase, a cheerful, gentle girl who lives peacefully with her kind parents and older brother, and who has a lot of friends. The story starts on the night before Arisa's birthday, and she is eating cake with her brother when the clock strikes midnight. At the exact moment the clock strikes midnight, suddenly the ground opens beneath her feet and Arisa is taken to Wonderland where the inhabitants, who resemble people she knows in her world, all call her Alice. Arisa relives the same day in Wonderland over and over, and she must find the real Alice to be able to break the cycle and return to her own world.
The original adults-only adventure game shipped for Windows computers in August 2012.
AnDerCen previously released an original anime DVD adaptation of little cheese's Kuro to Kin no Akanai Kagi. game in two 30-minute episodes, which shipped in 2013.
---