News

Anime Limited/Funimation Updates

posted on by Andrew Osmond
Includes details of new Funimation titles distributed by Anime Limited
---

Anime Limited made the following announcements:
- Anime Limited confirms it will be distributing titles for Funimation. "We're very excited to be able to help bring fans in the UK many titles from Funimation's catalogue, including the continuation of the Fairy Tail series on DVD."
Unless otherwise noted all release are Blu-ray/DVD combi pack releases, "following the standard formula that has been set for Funimation releases abroad."
July 25 - Yona of the Dawn Part 1 (pictured)
July 25 - Gonna Be The Twin-Tail!
August 15 - Fairy Tail Part 10 [DVD Only]
August 29 - No-Rin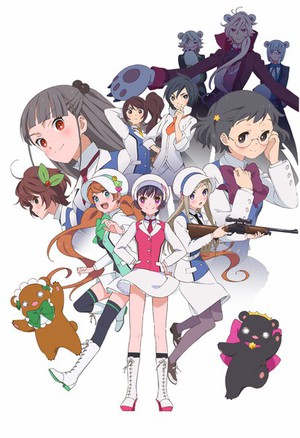 Also, the following titles are listed as 'coming very soon,' release dates TBC:
- Show By Rock Season 1
- Yurikuma Arashi (pictured)
- Mikagura School Suite
- Absolute Duo
- Barakamon
- Ninja Slayer
- Brothers Conflict
- Fairy Tail Part 11 [DVD only]
- Rainy Cocoa Seasons 1 & 2
- Daimidaler: Prince vs. Penguin Empire
- Yona of the Dawn Part 2
- BlazBlue Alter Memory
- High School DxD Season 3
- Fairy Tail Part 12 [DVD only]
The following announcements were made for Anime Limited's own titles:
- The Empire of Corpses has been moved back to August 8, due to delay in the production of the Steel Book packaging.
- Free! Eternal Summer is tentatively scheduled for August 29; the release will include the OVA episode.
- The Beck Mongolian Chop Squad DVD is still TBC. 'The date in July being listed by some retailers was a only tentative one – and that will be changed shortly.' Anime Limited is in the process of getting the full series certified by the BBFC: 'We're in the approvals phase on things.'
- The Makoto Shinkai Twin Pack containing Voices of a Distant Star and The Place Promised in our Early Days is still TBC; Anime Limited confirms it will not be released in July. "We're happy to say that the entire release has been QC'd, and we're currently in the approvals phase when it comes to the remainder of our release."
The release will contain both films in English and Japanese in 2.0 and 5.1 audio options for each language, and numerous extras. There is no more news on the possibility of a Blu-ray; "We still don't know if we will be able to release on Blu-ray at all in the future or not."
---