News

Aikatsu Stars! Film's Trailer Reveals Plot, Previews Short

posted on by Rafael Antonio Pineda
Film opens in Japan on August 13 with accompanying short
---
Toei began streaming a new trailer for the upcoming Aikatsu Stars! film on June 30. The trailer previews the plots of both the film and the accompanying "Aikatsu! ~Nerawareta Mahō no Aikatsu! Card~" (Aikatsu! ~Aiming For the Magic Aikatsu Card~) short.
The film's plot is set in a southern island, where a Legendary Dress Audition is taking place. Nijino and the others must find secret dresses said to be hidden somewhere in the island. The "Aikatsu! ~Nerawareta Mahō no Aikatsu! Card~" short has the protagonists starring in a movie directed by Ichigo Hoshimiya, and they must find a way to acquire the magical Aikatsu card that can grant any wish.
The film opens in Japan on August 13, with the short screening alongside the film. The film and the short will mark the first time the franchise is screening a double feature.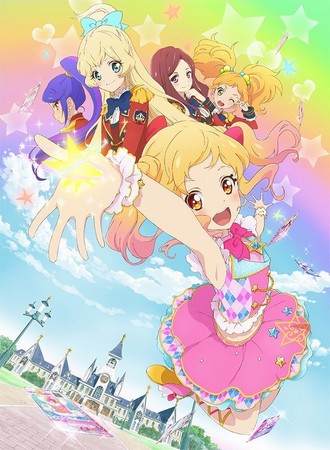 The Aikatsu Stars! television anime series premiered first on TV Tokyo and its affiliates on April 7, and airs on Thursdays. The show also airs on BS Japan on Mondays.
The TV anime series and film stars:
Miyu Tomita as Yume Nijino
Ayaka Asai as Laura Sakuraba
Minami Tsuda as Hime Shiratori
Sumire Morohoshi as Tsubasa Kisaragi
Azusa Tadokoro as Yuzu Nikaidō
Ayaka Ohashi as Yozora Kasumi
The series features a new protagonist named Yume Nijino. Yume aims to become a top idol, and she enrolls in the Yotsuboshi Gakuen (Four Stars Academy). This academy has a special group called the S4, who are the top four active idols in the school. Yume and the other first-year students aim to become a part of the S4.
Source: Anime! Anime! (Katsunori Takahashi)
---
this article has been modified since it was originally posted; see change history