News

New Digimon Universe TV Anime Casts Shiho Kokido, Nao Tamura

posted on by Rafael Antonio Pineda
New
Digimon
anime premieres October
---
The official website for the television anime of the Digimon Universe: Appli Monsters multimedia project revealed additional cast members and character designs on Wednesday. The additional cast includes:
Shiho Kokido
as Torajirō Asuka an 11-year old fifth grader. He is free-spirited and easily goes with the flow. Online, he is known as "Astra" (an abbreviation of his real name), a famous "Apptuber" who uploads videos to the video site Apptube. His family runs a tea ceremony school. Though raised in a strict household, he still values emotions and freedom. He has Musimon as his Buddy Appmon

Nao Tamura as Musimon, Torajirō's Buddy Appmon. He is derived from a music app. Like Torajirō, he easily goes with the flow.


The rest of the cast includes:
Yumi Uchiyama
as Haru Shinkai

Kokoro Kikuchi as Gatchmon


Wataru Takagi as the Appli Drive


Umeka Shouji as Eri Karan, a 14-year old second year junior high school student. She works as a member of an idol group, has good reflexes, and a lively personality. Though she plays a character in public, she is actually honest and kind. She easily feels lonely, and has a side of her that makes her prone to crying. She has Dokamon as her Buddy Appmon.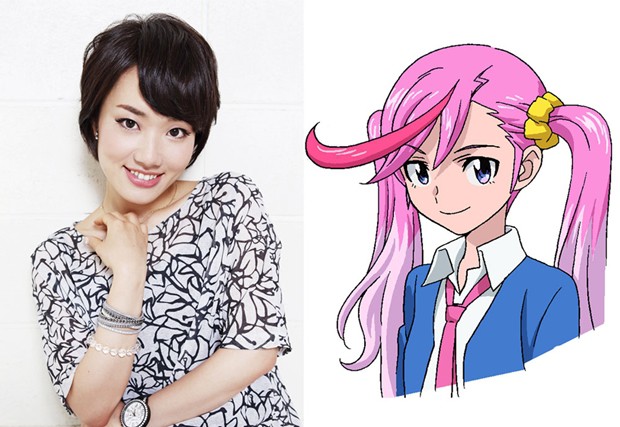 Motoko Kumai as Dokamon, Eri's Buddy Appmon. A strong Appmon who is nevertheless kind. He is derived from an action game app. She likes Eri, and calls Gatchmon "bro" out of respect.


The site describes the series' story:
Everyone in the world uses smartphone apps. But inside them lurks unknown creatures called "Appli Monsters," or "Appmon." The Appmon are AI lifeforms with the ability to think and act, and exist in the boundary between the human world and digital space to allow people and the system to interface and function. But in the vast sea of the internet, the "last boss AI" Leviathan takes control of the Appmon with a virus and begins hacking every system, thus starting to control the human world from the world of the net.

The protagonist, Haru Shinkai, is led to acquire the Appli Drive, and uses it to materialize Gacchimon, a search app monster. What is the secret hidden within the Appli Drive? What is the mysterious field that exists between net world where the Appmon exist, and the real world? What is the "App Combine" that can combine two Appmons? What is Leviathan's true goal?
The site previously streamed a trailer for the anime last month.
Gou Koga (Xenosaga: The Animation, Dokidoki! Precure, One Piece Episode of Sabo, Doki Doki! Precure) is directing the anime at Toei Animation. Yoichi Kato (Miracle Train - Ōedo-sen e Yōkoso, Yo-kai Watch, Monster Strike, Aikatsu!) is supervising the series scripts. Kenichi Ohnuki (Kiko Senki Dragonar, Gundam Build Fighters, Mobile Suit Gundam: Iron-Blooded Orphans) is designing the characters.
The anime will premiere on TV Tokyo in October.

Sources: Animate Times, MoCa News
---