News

Live-Action Yowamushi Pedal Show Posts On-Set Photos

posted on by Rafael Antonio Pineda
Series premieres in Japan on August 26
---
The official Twitter account for the live-action series of Wataru Watanabe's Yowamushi Pedal (Yowapeda) manga began posting on-set photographs of the series' filming on Monday. Filming began on the same day.
The series will premiere on August 26 on BS SKY PerfecTV! and will air on Fridays at 9:00 p.m.
Many of the main cast members are returning from the Yowamushi Pedal stage plays. The cast members include: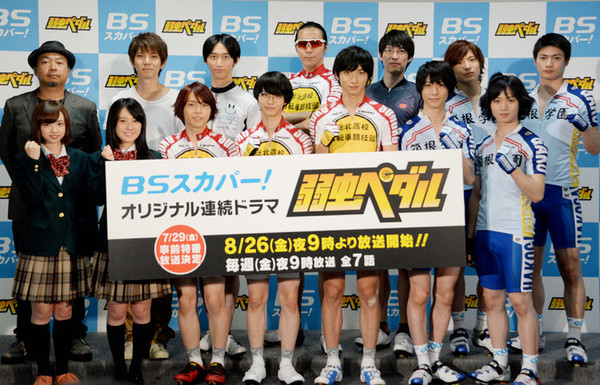 (front row, from left in picture above) Mao Noguchi as Aya Tachibana, Minami Sakurai as Miki Kanzaki, Taiga Fukazawa as Shōkichi Naruko, Yūki Ogoe as Sakamichi Onoda, Tatsunari Kimura as Shunsuke Imaizumi, Hiroki Suzuki as Yasutomo Arakita, Keisuke Ueda as Sangaku Minami.
(back row) Director Takayoshi Tanazawa, Yūya Asato as Tōji Kanzaki, Hiroki Hirai as Terufumi Sugimoto, Naoya Goumoto as Shingo Kinjō, Teruma as Kimitaka Koga, Shuuto Miyazaki as Hayato Shinkai, Soramu Aoki as Tōichirō Izumida.
Other cast members include:
Yūki Tomotsune as Jin Tadokoro (from the stage plays)
Ryōma Baba as Yūsuke Makishima (from the stage plays)
Kousuke Kujirai as Junta Teshima (from the stage plays)
Ryō Yashima as Hajime Aoyagi (from the stage plays)
Eiji Takigawa as Juichi Fukutomi (from the stage plays)
Ryō Kitamura as Jinpachi Tōdō (from the stage plays)
Ryūtarō Akimoto as Yukinari Kuroda (from the stage plays)
Takeshi Hayashino as Akira Midōsuji
Kōta Fukihara (live-action Tensai Bakubon ~Kazoku no Kizuna, Hibi Rock film) is writing the scripts for the series. Four-man band Magic of Life will perform the theme song "Skill Flower."

The manga centers around Sakamichi Onoda, an otaku at Sōhoku High School. He loves anime and games so much, that he would ride his commuter bicycle to and from Tokyo's Akihabara shopping district in a 90-kilometer (about 60-mile) round trip over steep slopes after school. Onoda's life changes when he encounters his school's cycling team, and he ends up joining the competitive sport of bicycle racing.
Wataru Watanabe launched the manga in Weekly Shōnen Champion magazine in 2008, and the story has inspired stage plays, two television anime adaptations, and a spinoff manga, Yowamushi Pedal: Spare Bike. A third TV anime season has also been green-lit and will premiere in January. The Spare Bike spinoff will also receive an anime adaptation with a two-week run in theaters this September.
The manga has also inspired two anime compilation films, as well as an anime film with an original story, the latter of which opened in August 2015.
Yen Press is releasing the original manga in North America. Discotek Media has licensed the two anime seasons on home video, and released the first season in January.
[Via Nijimen]
---