News

Ao Oni Horror Game Gets Fall TV Anime Shorts, 2017 Anime Film

posted on by Egan Loo
SD
comedy TV anime shorts followed by traditional mystery horror anime film
---

The horror game franchise Ao Oni is inspiring both a series of television anime shorts this fall and an anime film next year. Ao Oni: The Animation series of anime shorts will premiere on the TV Tokyo and BS Japan channels this October. The film Ao Oni: The Animation will then open in 2017.
Ao Oni is a horror game that makes the player solve various puzzles and riddles in order to escape a demon in a locked or enclosed space. The game first debuted as a free game released online in 2004. Videos of the game on YouTube and Nico Nico have topped 50 million views since 2009. The game is available to play in both Japanese and English. Publisher PHP Institute released a novel inspired by the game in Japan in February 2013 (cover seen right). The franchise also inspired two live-action films in July 2014 and July 2015.


The
Ao Oni: The Animation
television series will be a comedic take on the original story with the familiar characters drawn in
super-deformed
style:
Hiroshi, the rational protagonist who serves as the group's de facto leader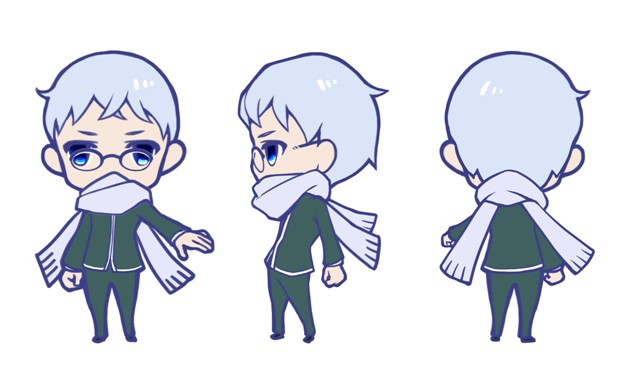 Takurō, the life of the party and the group member who sets the mood

Mika, the self-proclaimed heroine of the group (and arguably "the third cutest girl in class")

Takeshi, the most easily scared in the group

Ao Oni, a blueberry-colored naked giant who appears in the uninhabited mansion on the outskirts of the town

Blockman Oni (Fuwatty), a "fast" oni

Toshirō Hamamura (3D director on Chivalry of a Failed Knight, Wake Up, Girls!) is serving as chief director alongside director Chisei Maeda (Wasimo's ending animation) at Studio DEEN (When They Cry - Higurashi, Hell Girl).
The artist kichi is adapting the original character designs by Kyuta Sakai (Steins;Gate, When They Cry - Higurashi) for animation. Kanekoke is supervising and writing the series scripts. The animation is credited to maxcaffy, Kagi, Poeyama, and Sena Makino. Shiyu Yanagida is composing the music, and Dax Production is producing the sound.
The film Ao Oni: The Animation will be closer to the traditional mystery horror of the original game, although it will have a new story that is different from the original game, novelization, and live-action films. Studio DEEN is also animating the film.

The first live-action Ao Oni film premiered in Japanese theaters in July 2014, and grossed more than 200 million yen (about US$16.604 million) during its run in 80 theaters. The film also had a screening at the same time on Niconico, and with more than 10,000 paying viewers, it broke the website's record for the number of viewers on a paid program.
Sources: animeanime.jp, Animate Times
---