News

God Wars PS4/PS Vita Game's English-Subtitled Trailer Previews Fuyumi Sakamoto's Theme Song

posted on by Karen Ressler
Folklore-based tactical RPG stars Saori Hayami, Tasuku Hatanaka, Kaito Ishikawa, more
---
Kadokawa Games began streaming a second trailer for its God Wars ~Toki wo Koete~ (God Wars ~Beyond Time~) PlayStation 4 and PlayStation Vita game on Tuesday. The video introduces the cast and previews the theme song "Toki o Koete" by enka singer Fuyumi Sakamoto.
The trailer has English subtitles available with closed captions.
A demo of the game will launch on September 5. The game is slated for worldwide release this year.
The game is set in the land of Mizuho, and will center on the princes and princesses of three countries. The cast for the characters from the three countries includes:
Fuji-no-Kuni

Saori Hayami as Princess Kaguya


Haruka Yoshimura as Kaguya's sister Sakuya


Chie Nakamura as Tsukumomi, Kaguya and Sakuya's mother and ruler of Fuji-no-Kuni
Tasuku Hatanaka as Kintarō
Jun Fukuyama as Kuma
Izumo-no-Kuni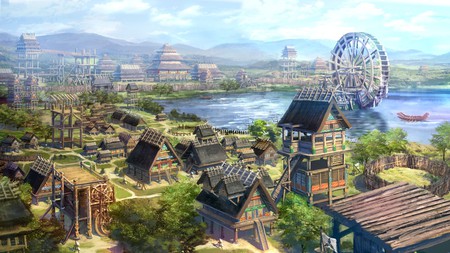 Miyuki Kokuryō as Prince Ōkuninushi


Masaki Terasoma as Susano-o, Ōkuninushi's father and ruler of Izumo-no-Kuni
Hyūga-no-Kuni

Kaito Ishikawa as Prince Momotarō


Mie Sonozaki as Amaterasu, Momotaro's mother and ruler of Hyūga-no-Kuni
Yumi Hara will also have a role in the game as Aoni (blue ogre), a character unaligned with any of the countries.
Kadokawa Games describes the game:
A history of Gods that no one knows.
A tactical RPG that depicts the conflict and surge of young heroes in ancient Japan.
An adventure that merges the world of Kojiki, Japan's oldest history book, and the fairy-tales of Japanese folklore.
The amazing saga of mighty heroes who fought bravely against their fate and the wrath of the Gods, has now been revealed.
The game's aesthetic will mix anime-inspired character designs and monster designs influenced by classical Japanese Yamato-e paintings:
Hi no Tori

Ōkami


Yoshimi Yasuda, the former head of Tecmo and current head of Kadokawa Games, is conceiving the story, directing the game, and writing the scenario. LovePlus designer Tarō Minoboshi is designing the characters, while Sawaki Takeyasu (Devil May Cry, Steel Battalion, Ōkami, El Shaddai: Ascension of the Metatron) is designing the monsters.
---