News

Naruto Shippūden: Ultimate Ninja Storm 4's 'Road to Boruto' Update Detailed

posted on by Rafael Antonio Pineda
Game will have physical, digital download, DLC update releases on February 2
---

Bandai Namco Entertainment revealed more details on Monday for the Naruto Shippūden: Ultimate Ninja Storm 4 Road to Boruto update to its Naruto Shippūden: Ultimate Ninja Storm 4 game. In addition, the company revealed that the Naruto Shippūden: Ultimate Ninja Storm 4 game has shipped 2 million copies worldwide. The original game will get a "Welcome Price!!" edition release on November 22 to commemorate the milestone.
The Road to Boruto update will be offered in a physical release, a digital download release, and a DLC update release. The physical and download release will contain the full Naruto Shippūden: Ultimate Ninja Storm 4 game, including all the previous three DLC releases for the main game, as well as the Road to Boruto update. The DLC update release is intended for players who already own the original game, and only wish to get the content of the new update. Players of all versions will be able to transfer their save files to the new update.
All releases will also include a first-print limited edition downloadable soundtrack for both the original game and the update, downloadable from February 2 to March 1. The physical release of the update will have a reversible box cover.
All versions are slated for a February 2 release in Japan. The physical and digital download release will cost 6,800 yen (about US$66), while the DLC update only will cost 2,411 yen (about US$23). Although the game has PlayStation 4, Xbox One, and PC versions, the announcement lists only a PS4 version for the update.
The update will allow players to play through the story of the Boruto manga. Those who attend Tokyo Game Show 2016 from September 15-18 will be able to play a demo of Sasuke vs. Kinshiki, which appeared in Boruto -Naruto the Movie-. The game's official website shows a screenshot from the Sasuke vs. Kinshiki fight.

The characters Boruto and Sarada — the stars of Boruto -Naruto the Movie- — are already included in the original game as playable characters.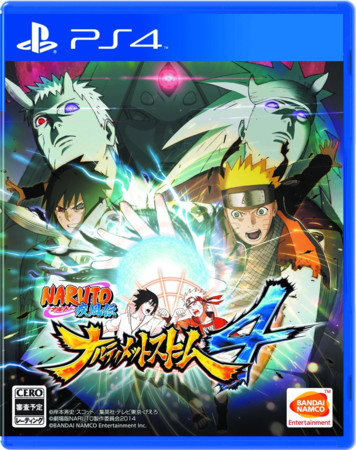 Bandai Namco Entertainment released the game in Japan on February 4, in Europe on February 5, and in North America on February 9. In Japan the game is available only on the PS4, while in the West it is available on PS4, Xbox One, and PC. The game features the largest number of fighters in the series history. That roster includes characters from the fight between Hashirama and Madara, as well as characters from The Last -Naruto the Movie-. The game also recreates the Shinobi World War.
The game's adventure mode allows players to freely explore Konoha and Suna villages and perform missions. Meeting characters trigger events, and the mode includes multiple conversation scenes with other characters. The game's online mode allows players to match up against each other, and also has limited time events that every player can participate in.
Source: Famitsu.com
---