News

Digimon Adventure tri. English Dub Clip Previews Joshua Seth as Tai

posted on by Karen Ressler
Film to screen in the US on Thursday
---
The Fathom Events YouTube channel began streaming an English dub clip from Digimon Adventure tri. on Monday. The clip features Joshua Seth as Tai.
The English dub cast includes:
While several of the cast members are returning from Digimon Adventure, Daymond is replacing Michael Lindsay as Joe, Higgins is replacing Edie Mirman as Gatomon, Bosch is replacing Wendee Lee and Doug Erholtz (Digimon Adventure 02) as T.K., Sands is replacing Lara Jill Miller as Kari, Mignogna is replacing Michael Reisz as Matt, Leigh is replacing Tifanie Christun as Biyomon, and Hebert is replacing Michael Lindsay as Greymon.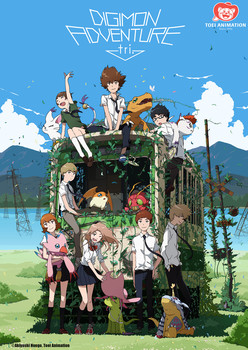 Eleven Arts and Toei Animation will release the English language version of Digimon Adventure tri. – Chapter 1: Reunion in theaters in the United States as a one-night Fathom Events screening in more than 400 theaters on Thursday. It will be followed by a national theatrical release in major cities.
The Digimon Adventure tri. project, which celebrates the 15th anniversary of Digimon Adventure (the first entry in the series), will have a total of six films. While the anime's human characters have a completely different Japanese voice cast from the original Digimon Adventure, the Digimon partners feature the same Japanese cast.
The first film, Digimon Adventure tri. Saikai (Reunion), opened in Japanese theaters last November, and Crunchyroll began streaming the film on the same day as four episodes. The second film, Digimon Adventure tri. Ketsui (Determination), opened in Japan on March 12 for a three-week run in theaters in Japan. Crunchyroll began streaming the film as four episodes on March 11.
The third film, Digimon Adventure tri. Kokuhaku, will open in Japan for three weeks on September 24, and will be available for paid streaming in Japan on the same day. The Blu-ray Disc of the film will be on sale at theaters on the same day, and the general release on Blu-ray Disc and DVD will be on November 2.
Thanks to Mark Alv for the news tip.
---