×
remind me tomorrow
remind me next week
never remind me
Subscribe to the ANN Newsletter • Wake up every Sunday to a curated list of ANN's most interesting posts of the week.
read more
News

Hidekatsu Shibata Reprises Role 5 Decades Later for Tiger Mask W Wrestling Anime

posted on by Rafael Antonio Pineda
---
The official website for Tiger Mask W (pronounced "Double"), Toei Animation's new anime based on Ikki Kajiwara and Naoki Tsuji's Tiger Mask manga, revealed three more cast members on Friday. The new cast includes Hidekatsu Shibata, who is reprising his role as Mr. X from the 1969-1971 Tiger Mask television anime series.
The three new cast members include:


Hidekatsu Shibata as Mr. X, the manager of The Tiger's Hole, and the boss of Miss X. He holds an especially strong grudge toward Tiger Mask.


Yu Kobayashi as Miss X, a manager of The Tiger's Hole. She is beautiful, but deadly in a fight. She regards Tiger Mask as an enemy, but in truth is overwhelmed by his strength.


Bin Shimada as Yellow Devil, a wrestler in The Tiger's Hole. He dealt Daisuke Fujii a grievous blow in the attack on the Jipang dojo, and he is a long-time enemy of Naoto and Takuma.
The previously revealed cast includes: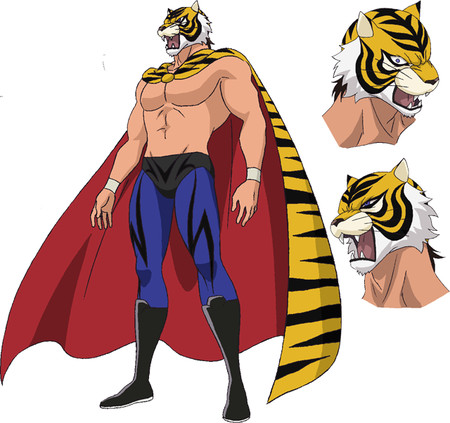 Taku Yashiro as Naoto Azuma/Tiger Mask: 21 years old. Once a young trainee of the Jipang Pro Wrestling team, until the wrestling team Global Wrestling Monopoly (GWM) destroyed their dojo. He trains to defeat "The Tiger's Hole," which manipulates GWM, and in order to do so, he starts using the Tiger Mask persona, as Tiger Mask once dealt a defeat against The Tiger's Hole.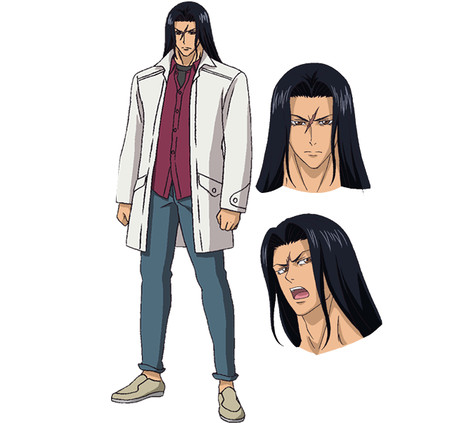 Yuichiro Umehara as Takuma Fujii/Tiger the Dark: 21 years old. Naoto's friend, and was similarly affiliated with Jipang Pro Wrestling. When GWM destroyed Jipang's dojo, Takuma's father was gravely injured. It was then that he swore revenge. He enters The Tiger's Hole, enduring its grueling training regimen, to become Tiger the Dark. He plans to destroy the organization from within.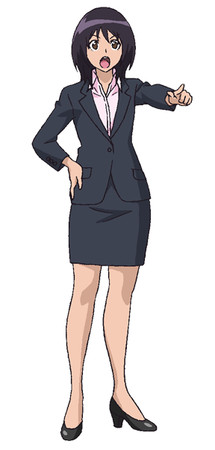 Suzuko Mimori as Haruna Takaoka: She is the niece of Kentarō Takaoka, the only person who knew the original Tiger Mask's identity. As one of the few people who knows the current Tiger Mask's identity, she serves as Naoto's manager. She admires Naoto, but hides her feelings to support him as manager.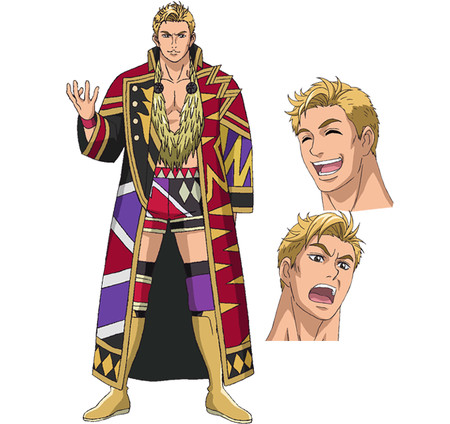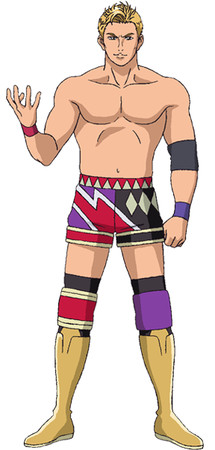 Masakazu Morita as Kazuchika Okada (who is based on a real-life wrestler): The New Japan Pro-Wrestling's champion who joins up with Tiger Mask to fight GWM.




Kenichi Suzumura as Hiroshi Tanahashi (who is based on a real-life wrestler): The New Japan Pro-Wrestling's ace. He helps Tiger Mask develop a special move.



Ryouichi Tanaka as Kentarou Takaoka, a friend of the first generation Tiger Mask Naoto Date. While running a small motorcycle shop called Takaoka Motors, he also trains Naoto Azuma to become the new Tiger Mask. Together with his niece Haruna, they work together to support the new Tiger Mask.


Takeshi Kusao as Daisuke Fujii, Takuma's father, and the manager of Jipang Pro Wrestling. As a wrestler he challenged "The Tiger's Hole," and he was injured when GWM destroyed the Jipang dojo. He is now in a hospital undergoing rehabilitation.


Chiemi Chiba as Ruriko Yamashina, a nurse at the hospital where Daisuke Fujii is currently admitted. She likes Naoto, who visits Daisuke every day, but because she sympathizes with Naoto's current situation, she hides her true feelings.

Izumi Kitta as Hikari Kuruma, a reporter for Monthly Pro Wrestling World. She gets close to Tiger the Dark, and is intrigued by his secret.


Daisuke Kishio as Ryu Wakamatsu, a young wrestler (or "young lion") from the New Japan Pro-Wrestling. He idolizes Kazuchika Okada. He tag-teamed in Tiger Mask's debut battle.


Masaki Terasoma as Yuji Nagata (who is based on a real-life wrestler), a leader among the competitors. Because he deals with management, attracting customers is a concern of his.

The anime will premiere on October 1 at 26:45 (effectively October 2 at 2:45 a.m.) on TV Asahi.
The staff describe the anime:
The protagonists are two young pro wrestlers, Naoto Azuma and Takuma Fujii. Both were trainees of "Jipang Pro Wrestling," a small pro wrestling team, until it was crushed by the evil "Global Wrestling Monopoly (GWM)" team. To plan their revenge, Azuma trained at the foot of Mount Fuji, becoming the "New Tiger Mask," while Takuma entered "The Tiger's Hole," the organization that manipulates GWM, becoming "Tiger the Dark."
Toshiaki Komura (Kinnikuman Nisei, Ring ni Kakero 1, Futari wa Precure Splash Star) is directing the series at Toei Animation, with Katsuhiko Chiba (Rune Soldier, Baby Steps, Onmyou Taisenki) supervising the series' scripts. Hisashi Kagawa (Kindaichi Shounen no Jikenbo, SaiKano, Fresh Pretty Cure) is designing the characters, while Junichi Hayama (Fist of the North Star 2, Casshern Sins, A Town Where You Live) is the action animation director. Yoshito Watanabe (Dragon Ball Z, Digimon Frontier, One Piece Special – Adventure of Nebulandia) is credited for art design. Yasuharu Takanashi (Naruto Shippūden, Fairy Tail Zero) and -yaiba- (Naruto Shippūden, Boruto: Naruto the Movie) are composing the music. Reggae band Shōnan no Kaze is performing both the anime's opening theme song "Ike! Tiger Mask" (Go! Tiger Mask) and the ending theme song "King of the Wild."

The new production is being "revamped" for a new digital era by blending a touch of classic cel animation with current 2D and 3DCG animation.
The New Japan Pro-Wrestling organization is collaborating with Toei Animation on the project, and its wrestlers will appear in the project under their own names. The two companies plan to release the anime not only in Japan, but also stream it throughout the world.
The original "Tiger Mask" is the alter ego of the character Naoto Date, a pro wrestler who goes against an evil wrestling organization and fights for children in an orphanage. The original manga ran from 1968 to 1971 in Kodansha's Bokura magazine, Weekly Shonen Magazine, and other magazines. Along with the baseball manga Kyojin no Hoshi, Tiger Mask is considered Kajiwara's life work. The manga already inspired two anime series in 1969-1971 and 1981-1982. The 1969 television anime series recorded 31.9% as its highest rating. There are even real-life wrestlers who have been inspired by the manga and anime to compete under the Tiger Mask persona.
Source: Anime! Anime! (Katsunori Takahashi)
---