News

NIS America Brings God Wars PS4/Vita Game to the West in Early 2017

posted on by Rafael Antonio Pineda
---
NIS America announced on Tuesday that it will release Kadokawa Games' God Wars ~Toki wo Koete~ PlayStation 4 and PlayStation Vita game in North America and Europe in early 2017 with the title God Wars Future Past. It will release the game on both platforms both physically and digitally.
Kadokawa Games previously streamed a trailer for the game last month featuring English subtitles in closed captions.
NIS America describes the game:
A long time ago, there was a beautiful land made up of three nations: Fuji, Izumo, and Hyuga . This land was called Mizuho. The people of Mizuho disliked conflict, honored their ancestral spirits, and lived in harmony with nature. However, over time, they began cultivating crops, forging and using metal, fighting wars, destroying nature, and neglecting to honor their ancestral spirits.

In the meantime, various locations in Mizuho suffered from natural disasters like flooding, earthquakes, and volcanic eruptions. In order to stop a destructive eruption, the Queen of Mizuho, Tsukuyomi, sacrificed her beloved daughter Sakuya to the mountain, confined her other daughter Kaguya within a bamboo seal in case of future disasters, and then disappeared. 13 years later, Princess Kaguya has grown into a beautiful woman and her childhood friend, Kintaro, saves her during a riot. She rises against her "fate to be a sacrifice," and in order to follow her own path, they both escape from Fuji and journey across Mizuho to discover the truth behind Tsukuyomi's decision.
A demo of the game launched in Japan on September 5. It is slated for release in Japan this year.
The game is set in the land of Mizuho, and will center on the princes and princesses of three countries. The cast for the characters from the three countries includes:
Fuji

Saori Hayami as Princess Kaguya


Haruka Yoshimura as Kaguya's sister Sakuya


Izumo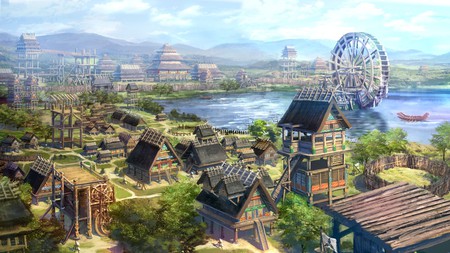 Miyūki Kokuryō as Prince Ōkuninushi


Masaki Terasoma as Susano-o, Ōkuninushi's father and ruler of Izumo-no-Kuni
Hyūga

Kaito Ishikawa as Prince Momotarō


Mie Sonozaki as Amaterasu, Momotaro's mother and ruler of Hyūga-no-Kuni
Yumi Hara will also have a role in the game as Aoni (blue ogre), a character unaligned with any of the countries.
The game's aesthetic will mix anime-inspired character designs and monster designs influenced by classical Japanese Yamato-e paintings:
Hi no Tori

Ōkami


Yoshimi Yasuda, the former head of Tecmo and current head of Kadokawa Games, is conceiving the story, directing the game, and writing the scenario. LovePlus designer Tarō Minoboshi is designing the characters, while Sawaki Takeyasu (Devil May Cry, Steel Battalion, Ōkami, El Shaddai: Ascension of the Metatron) is designing the monsters.
[Via Gematsu]
---