News

Crunchyroll to Stream Bloodivores, Time Bokan 24 Anime

posted on by Crystalyn Hodgkins
Both series to premiere on Saturday
---

Crunchyroll announced on Friday that it will stream the Bloodivores and Time Bokan 24 anime series. Crunchyroll will stream Bloodivores starting on Saturday at 9:30 a.m. EDT, and the series will stream for members worldwide outside of China, Japan, and Korea.
The site will start streaming Time Bokan 24 on Saturday at 7:00 a.m. EDT. The series will be available for members in: the United States, Canada, South Africa, the United Kingdom, Ireland, Australia, New Zealand, Denmark, Norway, Sweden, Finland, Iceland, the Netherlands, and Central and South America including the Caribbean.
The Bloodivores "vampire survival action" series is based on a Chinese web comic by cartoonist Bai Xiao, serialized on Tencent's Tencent Comic website. Emon describes the story:
60 years ago, a strange case of insomnia struck the population, forcing them to stay awake for more than a full week. The victims, completely sleep deprived, all went mad. To cure this illness, a new medicine was produced, but the side effects turned the patients into vampires. Humanity went to war against this new species and triumphed, but some of the vampires managed to survive. Born from a Human and a Vampire, the main character Mi Liu, "The Child of Hope", is to represent the new hope that will connect the two species. Ringleader of a bank robbery, Mi Liu is arrested and transferred to a special prison of the National Defense Agency that monitors Vampires. Trying to break free with Anji, Mi Liu is attacked by strange monsters and he finds out that the prison location corresponds to the birthplace of Vampires, the old capital "Blue Town." Why are Vampires trapped in Blue Town? What are those strange monsters attacking them? Our heroes must fight to solve those mysteries.
The cast includes:
Kenji Akabane as Mi Liu
Eri Kitamura as Anji
Takuya Satou as Lee Shin
Sho Hayami as Lou Yao
Chen Ye is directing the anime at Emon Animation Company and Creators in Pack, with Masashi Nakamura (Rokka: Braves of the Six Flowers episode director) credited as chief director. Haruko Nobori (Tiger & Bunny) is credited with color design, while Yoshimi Umino (Phantom ~Requiem for the Phantom~, Ga-Rei-Zero) is art director at Production AI. Minori Kimura (BONJOUR Sweet Love Patisserie, Toradora!) is director of photography at Studio Shamrock. Toshirō Hamamura (Psycho-Pass 2, Shakugan no Shana) is directing the CG animation at Wired. Takahisa Ishida (Rokka: Braves of the Six Flowers, Wake Up, Girls!) is credited as production producer, and Yoshiaki Matsumoto (My Teen Romantic Comedy SNAFU, Gunslinger Girl) is credited as set producer. Mili is performing the opening theme song "与我共鳴-NENTEN-," while siraph is performing the ending theme song "quiet squall."
The 12-episode anime will premiere in Japan on Tokyo MX1 on October 1 at 9:00 p.m.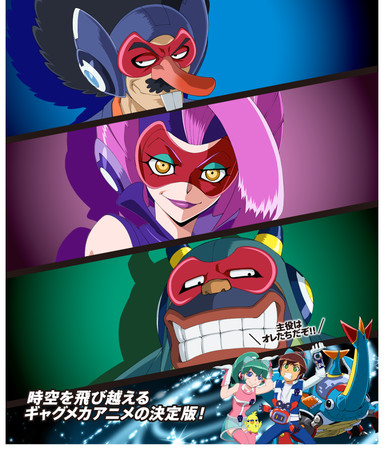 Tatsunoko Productions' Time Bokan 24 television anime series will premiere in Japan on October 1 on NTV and Yomiuri TV, and will air every Saturday at 5:30 p.m. (airing in what was Ace Attorney's timeslot).
The show stars: Akihisa Wakayama as Tokio, Akari Kitō as Calen, Eri Kitamura as Bimajo, Hiroaki Hirata as Tsubuyakky, and Kenta Miyake as Suzukky.
Crunchyroll describes the story:
The history in our textbooks are all wrong?! In the 24th century, humankind accomplished the invention of a time machine, "Time Bokan". As they discover the truth about history, they realize that the history written in their textbooks are all wrong! To correct their knowledge of history, the government developed an organization called JKK (Space-time Administrative Bureau). Our hero Tokio is recruited by Karen, a girl from the future to join the JKK. Together they travel through time to discover the true history, along with fighting the "Akudarma" a villainous group whose goal is to prevent the discovery of the truth!
Takayuki Inagaki (World Break: Aria of Curse for a Holy Swordsman, Rosario + Vampire) is directing the series, and Yoichi Kato (Yo-kai Watch, Aikatsu!) is in charge of series composition. Akihiro HIno (Yo-kai Watch, Inazuma Eleven story) is the creative producer. Level-5 is contributing the original character and mechanical designs and planning the project with Tatsunoko Productions. Kunio Okawara (Mobile Suit Gundam, Yatterman, Armored Trooper Votoms) is working on the anime's mechanical design.
---