News

Death Note the Musical Gets Rerun in September

posted on by Rafael Antonio Pineda
---
Frank Wildhorn's 2015 Death Note the Musical will get a rerun in September at Tokyo's New National Theater, and will also get performances in Toyama and Osaka. HoriPro is streaming a video for the musical that includes footage from the 2015 performances.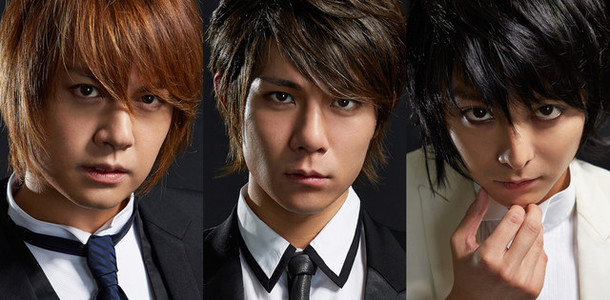 The main cast members, who are reprising their roles, include (from left to right):
Kenji Urai (Aoi Honō, Kamen Rider Kuuga, Sailor Moon musicals) as Light Yagami (shared role)
Hayato Kakizawa (Crows Explode, Kaiji 2) as Light Yagami (shared role)
Teppei Koike (Gokusen, Love*Com the Movie, Tōfu Kozō) as L
Fūka Yuzuki (live-action Shinigami-kun) and Megumi Hamada will also reprise their roles as Misa Amane and Rem, respectively. Karin Takahashi will play Sayu Yagami, Kazutaka Ishii will play Ryuk, and Tetsuya Bessho will play Sōichirō Yagami.

Frank Wildhorn, an American composer known for songs sung by Whitney Houston ("Where Do Broken Hearts Go?") and Natalie Cole, scored the Death Note musical. Tamiya Kuriyama, a recipient of the Japanese government's Medal with Purple Ribbon, is directing. Jack Murphy (The Civil War, Rudolf, Carmen, Wonderland, The Count of Monte Cristo) wrote the lyrics, and Ivan Menchell (The Cemetery Club, Chitty Chitty Bang Bang, Bonnie and Clyde) wrote the script.
In Tsugumi Ohba and Takeshi Obata's original 2003-2006 supernatural suspense manga, teenager Light Yagami finds a notebook with which he can put people to death by writing their names. He begins a self-anointed crusade against the criminals of the world, and a cat-and-mouse game begins with the authorities and one idiosyncratic genius detective.
In addition to the 2006 television anime adaptation and tie-in specials, Death Note also received a Japanese live-action film adaptation in 2006, with a sequel titled Death Note: The Last Name, and a spinoff titled L change the WorLd in 2008. A live-action television series adaptation premiered last July, and ended last September. A new film titled Death Note: Light up the NEW world, described as a "forbidden sequel" to the first live-action film, is set to open in Japan on October 29. Viz Media released the manga, previous Japanese live-action films, anime, and other tie-in projects in North America, and Crunchyroll streamed the live-action television series.
The original manga is also inspiring a Netflix live-action film set to debut next year.
Source: Comic Natalie
---